Christmas Pitta Impigliata
Pitta Impigliata. A traditional Christmas Dessert for our Calabrese Family.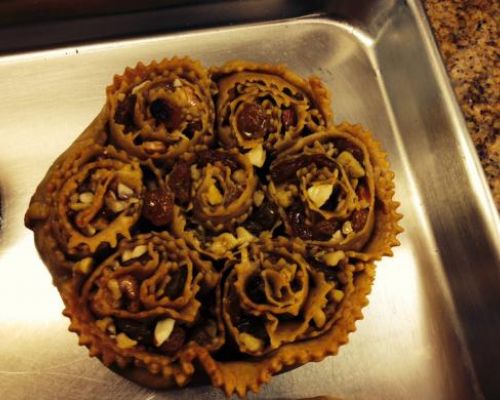 Ingredients
For 4 Dozen(s)
For the Dough:
7

cups

all purpose flour

1

cup

olive oil

1

cup

sweet vermouth

1

cup

white wine

2

large eggs, beaten
For the Filling:
4

cups

almonds, chopped

5

cups

raisins

1/2

cup

sugar

2

teasponns

cinnamon

1/2

teaspoon

cloves powder
Directions
Put flour and salt in a large bowl. Make a well and add eggs, wine and oil. Knead well and refrigerate overnight.

Mix nuts and raisins together. Set aside.

Mix together sugar, cinnamon and cloves.

Assembly:

Roll out dough into a circle approximately 6" for the bottom of the pitta.

Spread oil over crust, sprinkle with cinnamon, sugar and clove mixture.

Roll out dough for inside part into 4" strips (we use the pasta machine) make them 12" long, use ravioli cutter along the edges. Add nut and raisin filling on one half. Roll up like a cinnamon roll and place in the center of the round and repeat until approximately 1" for the edge.

You may place smaller rounds around the central round or unroll subsequent rolls around the first round....like building a giant snail.

Fold edge up and tie with string. Brush tops lightly with oil.

Bake for approximately 1 hour.

Remove from oven and pour 6 tablespoons of warm honey over the top of each pitta.