Chocolate Dipped Peppermint S Cookies
Chocolate Dipped Peppermint S Cookies.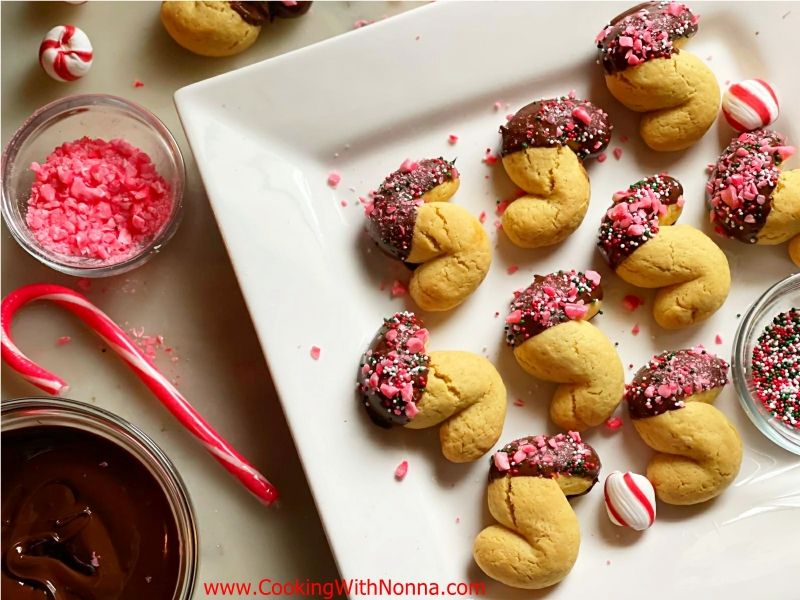 Ingredients
For 1 Dozen(s)
For the Cookies:
1 1/4

cups

all purpose flour, plus more for dusting

1/4

cup

granulated sugar

1

large egg

2

packets vanillina or 1 teaspoon vanilla extract

1

tablespoon

peppermint extract

3/4

teaspoon

baking powder

3

tablespoons

olive oil

3

tablespoons

olive oil
To Decorate:
1

cup

semisweet chocolate chips

crushed candy canes and sprinkles
Directions
Get the Products/Ingredients needed for this Recipe

HERE!

Preheat the oven to 375ºF (190ºC). Line a baking sheet with parchment paper.

In a mixing bowl, whisk together the flour and baking powder. Set aside.

In the bowl of a stand mixer fitted with the paddle attachment, beat the egg, vanilla and the sugar on medium speed until lemon colored and foamy, about 5 minutes.

Add the olive oil peppermint extract and mix until fully incorporated. Add the flour mixture. Mix until fully absorbed.

Working with a tablespoon of dough at a time, roll out the dough into a 1 inch thick rope.

Cut 5-6 inch pieces and shape each piece into an S shape about 2 inches apart.

Bake For 15 minutes or until the bottoms are golden brown.

Melt chocolate over a double boiler and dip the cookies half way in chocolate. Sprinkle some with crushed candy canes and some with sprinkles.