Meet Nonna Rosetta Rauseo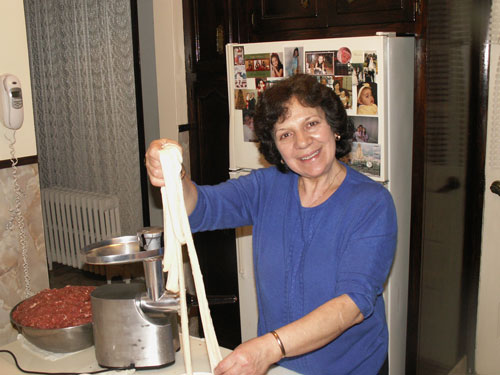 About Nonna Rosetta
My name is Rosetta Rauseo and I was born in Aquilonia, Avellino. As an only child I grew up helping my mother cook for our family. My mother would encourage me to learn new recipes and watch how she prepared each meal, so that eventually I would be able to master each recipe without her help.
In 1974, I married my best friend, and we decided to start our lives together in the United States. In 1975 we moved to Bloomfield, NJ, and a year later we welcomed our oldest daughter Maria into the world. Being a new mom and wife I had to have dinner on the table each night for my family so that we could have a well-balanced meal. I enjoyed cooking and learning how to change the recipes my mother had taught me into my very own.
In 1978 we were blessed again but this time with our son Franco. Having two small children in the house wasn't easy and having a husband that would work all hours of the day didn't help. My time away from all the craziness was in the kitchen doing what I know best "cooking." In 1984 we welcomed our youngest daughter into the world Gerardina. I remember trying to get Maria and Franco to eat one night while giving Gerardina her bottle, and begging my daughter Maria to eat. I had cooked about five totally different meals for her because she was such a fussy eater, and she refused each one. I told her that if she didn't eat mommy would get sick, and she told me that she would get me medicine at the doctor's if that should happen. Well I was heart broken and from that day on decided when she was hungry enough she would eat on her own.
For the past twelve years I have worked at A&P in the bakery. I make all the cakes, pastries, breads, and specialty items for the store. Since beginning at A&P in the bakery I realized that my best recipes are found within baking. I find that when I am both cooking and baking I put my heart into everything I make and I see how my family reacts when they eat my meals. Until this day my daughter Maria will eat at my house at least once a week and ask to bring home all left over food so that she can have it for lunch the following day. My family has grown and I have two beautiful granddaughters with hopefully more on the way soon. I have passed my recipes on to my daughters as well as my daughter-in-law; they enjoy keeping my recipes active within their own homes when I am not preparing them in my kitchen. Today I enjoy the time I spend in my kitchen not only teaching my children but my grandchildren as well "Nonna's recipes".
Nonna Rosetta Rauseo