Chestnut Cream Cookies - Pastatelle
Chestnut cream filled cookies from Aquilonia (Avellino). Great cookies for Christmas!
These Ravioli type cookies can be either baked or fried.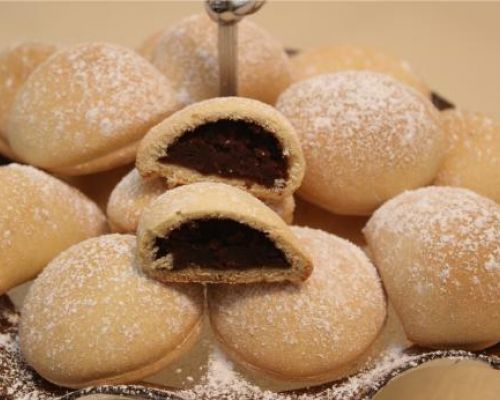 Ingredients
For 1 Person(s)
For the Cream:
1

pound

chestnut paste or chestnut flour

6

ounces

dark chocolate

4

ounces

honey

1

orange, zest only

1

teaspoon

cinnamon

1

tablespoon

cocoa powder - unsweetened
For the Dough:
3

large eggs

1/2

cup

sugar

1/4

cup

olive oil

1

teasponn

vanilla powder

pinch of baking powder

2 1/2

cups

all purpose flour

olive oil for frying
Directions
Make the Dough:

In a large bowl, beat the eggs and add the olive oil, vanilla powder and baking powder. Mix well.

Add the sugar and mix well.

Little by little add the flour and let it absorb all the liquids.

Move the dough to a wood board and continue to knead until it forms a uniform ball.

Enclose the dough in plastic paper and let it rest for about 20 mins.

Re-work the dough once again and let it rest for another 15 mins.

Make the Chestnut Cream:

If you are using fresh Chestnuts, first boil them and once they are cooked, remove the paste from all of them and put it in a food processor to get a smooth paste. Otherwise, you can use Chestnut flour.

In a pan, add the dark chocolate, honey, orange zest and the cacao.

On low flame let the chocolate melt and mix with all the ingredients.

Add the chestnuts and mix well until you have a firm cream.

Let it cool.

Make the Pastatelle:

Cut a piece of dough and flatten it with a rollinh pin. Make the dough very thin.

Place a Tsp of Chestnut Cream on the dough and cover it with another layer of dough as if you were making a raviolo.

Press the dough down to remove the air from inside the cookie and with a large shot glass or a ravioli stamp cut out the cookie from the dough.

Make all your cookies.

Once they are all made, they can be either baked at 350F for 20 mins. or they can be deep fried.

Serve with powder sugar on top.
Reviews
Wednesday, 18 December 2019
This recipe seems very similar to what my mother made. I always thought she was calling it (I am spe...
See Full Review >>
- BornToSing
Thursday, 08 September 2016
Close to my grandmothers but the dough was dry and lacked something...the filling lacked something a...
See Full Review >>
- Mimi5