Cannoli Cheesecake
My dear friend loves Cannoli's and she loves my cheesecakes, so I surprised her one day with what is now one of her favorite desserts.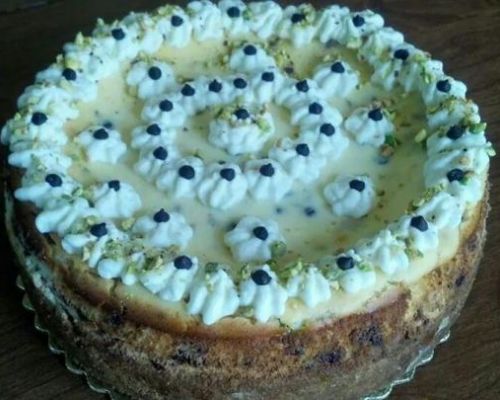 Ingredients
For 12 Person(s)
For the Crust:
1 1/2

cups

ground vanilla wafer cookie crumbs.

5

tablespoons

butter

1/4

cup

sugar

1/4

teaspoon

rum extract

1/4

tablespoon

cinnamon

1

tablespoon

all purpose floup
For the Filling:
32

ounces

Philadelphia cream cheese

1

cup

sugar

3

large eggs

1

cup

ricotta cheese

1/4

cup

all purpose flour

1/4

cup

chopped candied cherries

1/4

cup

candied orange zest

1/4

cup

chopped figs

1/4

cup

fine chopped pistachio

1/4

cup

mini chocolate chips
For the Topping:
1/2

cup

heavy whipping cream

1/2

cup

confectioners sugar

1

teaspoon

vanilla extract

finely chopped pistachios

mini chocolate chips
Directions
*I suggest putting the cream cheese and eggs out for one hour to get to room temperature.

Place a Square of parchment paper at the bottom of a 9" spring form pan. (This is for easy release of pan bottom and crust.)

For the Crust:

In a food processor place just about a whole box of Vanilla Wafer cookies. Pulse until finely crumbed. Or place cookies in lg zip lock bag, seal and pound out with a rolling pin.

In a small glass bowl melt your butter in the microwave. Add the cookie crumbs, sugar, rum extract, cinnamon and flour. Stir together until butter is absorbed throught and then put into spring form pan and press into bottom. Set aside.

For the Filling:

In a large mixing bowl ( I like using a hand mixer). Mix together first the cream cheese and the sugar until smooth. Then add the eggs one at a time, making sure its smooth between each egg addition. Add the ricotta and flour mix until blended. Then on then low setting add in your Candied Cherries, Candied Orange Zest, Chopped Figs, Chopped Pistachios and Mini Chocolate Chips.

Pour mixture into the spring form pan. Bake for one hour or until the cake starts to pull away from the sides of the pan. Insert a cake pin to check doneness. It should be set at the putter couple inches and semi set in the center. Now before it starts to cool, take a cake knife and slide it around the edges of the cake and the pan, so it will release easier when it cools. ( I like to sit it out for about an hour to cool before I place it in to the fridge). Place in fridge and cool 8 hours or over night.

After cooled, release from pan and place on a cake stand.

For the Topping:

In a bowl of a stand mixer add heavy cream, confectioners sugar, and vanilla. Mix on medium speed until peeks form. Put whipping cream in piping bag with star tip.

Pipe out whipped cream on cake and sprinkle with a dusting of finely chopped Pistachio's and Mini Chocolate Chips.
Categories:
Dessert & Cookie Recipes
,
Intermediate Recipes
,
All Recipes
,
Christmas Recipes
,
Thanksgiving Recipes
,
Easter Recipes
,
Valentine's Day Recipes
,
Mother's Day Recipes
,
Father's Day Recipes
,
Recipe Contest Winners
,
Easter Cakes and Cookies
,
Cakes and Pies Recipes
,
Thanksgiving Dessert Recipes
,
Cheesecake Recipes
,
Christmas Dessert Recipes
Reviews
Thursday, 08 September 2016
made this cannoli cheesecake, it didn't taste like cannoli at all. even made it 2 days ahead so tha...
See Full Review >>
- Lakeside1