Apple Cream Tart
I love the idea of a beautiful apple tart! I think its Apple rose topping makes a wonderful centerpiece to any dessert table. When I set out to make my own "Italian" version of the ever so famous French apple tart I suddenly remembered my aversion to making pie crusts. Crusts and I have never quite had a loving relationship. I always try so hard and they all ended up disappointing me. But then I remembered a fantastic secret a Nonna taught me when she was showing me a cookie recipe. She made a wonderful crust out of cream cheese, butter and flour and it all came together so effortlessly I couldn't even believe it! I jazzed up her cream cheese crust by adding just a bit of sugar and Eccola! I made a crust that could even make a Nonna proud! I decided to fill my Apple tart with a cream filling as opposed to an apple compote because I love the different textures from the silky mascarpone and the flaky crust and finally the soft apples. I know you're all going to love it!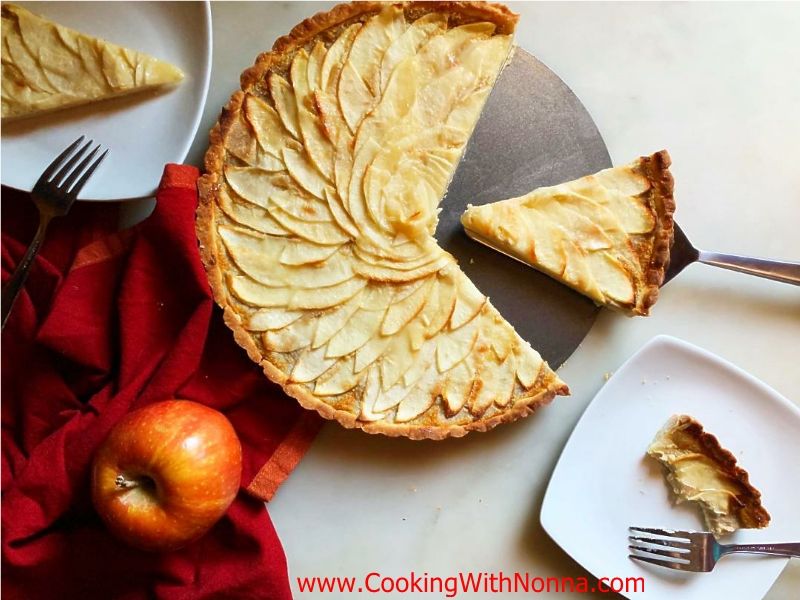 Ingredients
For 10 Person(s)
For the Crust:
4

ounces

unsalted butter (softened)

3

ounces

cream cheese, softened

1/4

cup

confectioners sugar

1/2

teaspoon

salt

1 1/2

cups

all purpose flour
For the Filling:
3/4

cup

mascarpone cheese (room temperature)

1/2

teaspoons

cinnamon

2

tablespoons

sugar

1

teaspoon

vanilla extract

2

large eggs
For the Topping:
3

Gala apples

1

lemon, juice only

granulated sugar for sprinkling

3

tablespoons

apricot preserves
Directions
Cream Cheese Crust:

Preheat oven to 350 degrees

In a stand mixer cream together cream cheese, butter, sugar and salt. Add in the flour on low speed until everything is absorbed. The dough will seem soft. Turn off the mixer and form the dough into a ball with your hands, picking up anything leftover at the bottom of the bowl.

Cover with plastic wrap and chill 30 minutes to an hour.

On a lightly floured surface roll out the dough to about 1/8 inch thick and roll onto a 9 inch tart pan. Trim the excess off the edges and press into the sides. Dock with a fork and line with parchment paper or tin foil. Weigh down the center with pie weights or dry beans and partially bake for 10-15 minutes.

Remove and cool

Filling:

Combine all ingredients until smooth and spread filling into the cooled tart crust. Push most of the filling towards the outside of the crust leaving a thinner layer in the center. Let the crust and filling chill in the freezer while you prep the apples.

Peel and core the apples. Either with a mandolin or by hand slice the apples very thin. They must bend. Place them in a bowl with lemon juice.

Remove the filled crust from the freezer and begin arranging the apple slices in a swirl pattern, allowing each slice to overlap until you reach the center.

Sprinkle generously with sugar and bake for 35 minutes or until the apples begin to color. For more color you may place the tart under the broiler for a minute or so.

In a small saucepan, heat the preserves until liquified and brush the apples with it.

Serve at room temperature
Recipe Notes
If the apple rose on top seems to complicated for you don't worry. You can make any design you like or even use chopped apples.
Categories:
Dessert & Cookie Recipes
,
Baking with Rossella
,
Intermediate Recipes
,
All Recipes
,
Christmas Recipes
,
Thanksgiving Recipes
,
Easter Recipes
,
Valentine's Day Recipes
,
Mother's Day Recipes
,
Father's Day Recipes
,
Easter Cakes and Cookies
,
Valentine's Cake and Cookie Recipes
,
Pastry and Tart Recipes
,
Summer Dessert Recipes
,
Thanksgiving Dessert Recipes
,
Christmas Dessert Recipes
Reviews
Wednesday, 17 August 2022
Just made this. Looks and smells delicious. Can this be stored refrigerated and brought to room temp...
See Full Review >>
- Roxy12099
Friday, 29 December 2017
How much mascarpone (or cream cheese) is used in the crust? It's mentioned in the instructions bu...
See Full Review >>
- Siena568
Monday, 11 December 2017
In this cake I used Mascarpone cheese, not cream cheese! :)
- rossella rago
Monday, 11 December 2017
Looks great, but where is cream cheese and how much?? Thank you.
- Peggy124