Zuppa Inglese
Zuppa Inglese, a delicious and colorful dessert traditionally made in Tuscany.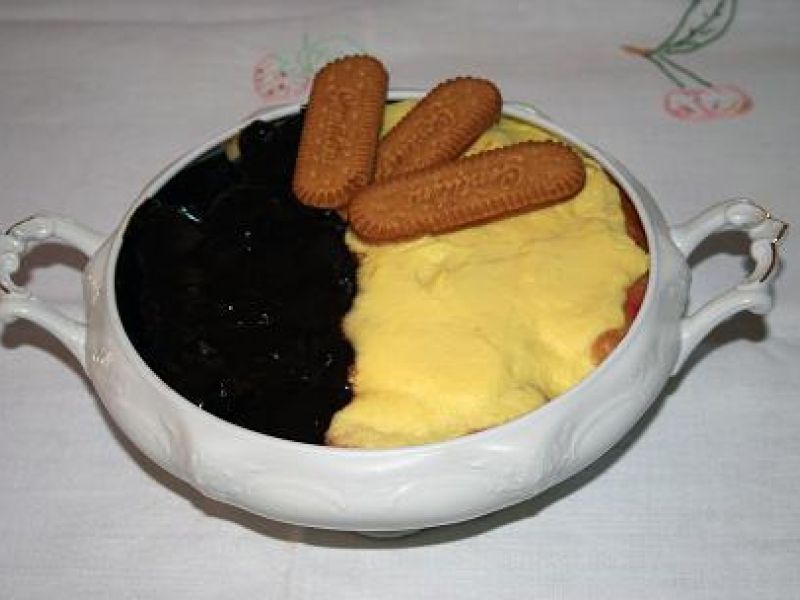 Ingredients
For 6 Person(s)
For the Filling:
7

ounces

Lady Fingers

1

cup

Rum

1

cup

Alchermes* (Maraschino is a good colorful substitute)
For the Cream:
5

egg yolks

5

ounces

sugar

3 1/2

ounces

all purpose flour

3

cups

milk

1

lemon, peel only

1

teaspoon

vanilla extract
For the Chocolate:
2 1/2

ounces

bitter cocoa

1 1/2

ounces

sugar

1

ounce

milk
Directions
Cream Preparation:

In a pan put the egg yolks and the sugar and begin whipping.

Slowly add the flour and then add the vanilla to the lukewarm milk and add it to the ingredients. Add the lemon peel.

Put the pan on the stove and cook at medium flame. Stir continuously until the ingredients reach the boiling point.

Continue cooking for an additional 5 minutes and continue stirring.

Remove the pot from the stove and let it cool. Remove the lemon peel and stir occasionally.

Chocolate Preparation:

In a bowl add the hot milk and slowly add the cocoa and sugar and let them melt.

Let cool off.

Zuppa Inglese Assembly:

In a cake pan begin by adding a layer of Lady Fingers dipped on one side in the Rum and the other in the Alchermes.

Add a layer of chocolate and a layer of cream.

Repeat the layering process.

Garnish the top with cream and chocolate.
Recipe Notes
(*) Alchermes is an Italian liqueur, said to have been invented in Florence by the Medici family, prepared by infusing neutral spirits with sugar, cinnamon, cloves, nutmeg and vanilla, and other herbs and flavoring agents. Its most striking characteristic is its scarlet color, obtained by the addition of Kermes — hence its name — or cochineal. The drink fell out of favor around the turn of the century because people discovered that its principal ingredient (the dye from the insects) was not what they had thought it was. Several proprietary variants are commercially available, with alcoholic contents ranging from 21 to 32%. Its chief use is in coloring pastry, although a quick dessert is sometimes made by adding it to mascarpone and sugar.
Categories:
Nonna Lina Giovannini
,
Dessert & Cookie Recipes
,
Toscana Recipes
,
Intermediate Recipes
,
All Recipes
,
Christmas Recipes
,
Thanksgiving Recipes
,
Easter Recipes
,
Valentine's Day Recipes
,
Super Bowl Recipes
,
Mother's Day Recipes
,
Father's Day Recipes
,
Easter Cakes and Cookies
,
Valentine's Cake and Cookie Recipes
,
Cakes and Pies Recipes
,
Thanksgiving Dessert Recipes
,
Christmas Dessert Recipes
Reviews
Thursday, 08 September 2016
I\'m not good with sweets, but I\'m sure going to try this one!!!!!!!!!!
- Lori