Nutella Filled Ricotta Cookies
Nutella Filled Ricotta Cookies.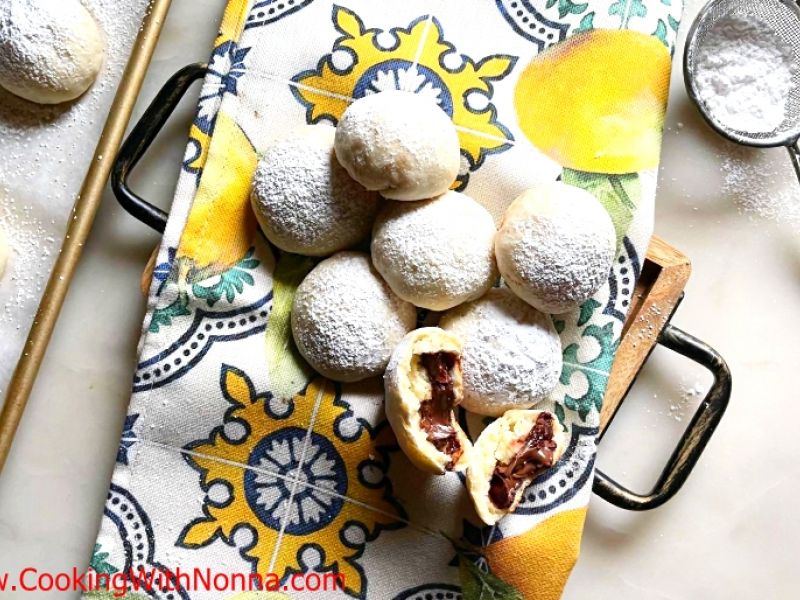 Ingredients
For 2 Dozen(s)
For the Cookies:
1/2

cup

Nutella

1

cup

whole milk ricotta, room temperature

1/3

cup

granulated sugar

1/3

cup

unsalted butter, room temperature

1 1/2

cups

all purpose flour

1

teaspoon

baking powder

confectioners sugar for dusting
Directions
Using a teaspoon, scoop out the Nutella into 20 teaspoons and place them on a parchment lined baking sheet. Place in the freezer for 1 hour while you make the cookie dough.

In a bowl combine the ricotta and sugar. Mix with a spoon until smooth. Add in the butter and mix until incorporated.

Add in the flour and baking powder and mix until absorbed and a dough forms that does not stick to your hands.

Cover the bowl with plastic wrap and refrigerate for 1 hour.

Preheat your oven to 350 degrees. Line a baking sheet with parchment paper.

Using a tablespoon, scoop a rounded tablespoon of dough into your hand and flatten into a disk. Place a frozen piece of Nutella in the center and roll the ball of dough quickly to close. Place each cookie 2 inches apart on the baking sheet.

Bake for 15 minutes and dust with confectioners sugar.
Reviews
Saturday, 17 December 2022
Nutella filled Ricotta cookies, Not good. too big, very doughy. I made them smaller but still not a...
See Full Review >>
- Toni frank