About Nonna Lina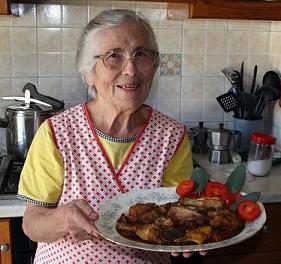 Nonna Lina was born in the late 20's in Volterra, in the province of Pisa, Tuscany, right in the hearth of the Colline Metallifere. She is the third child in a family of five children. During her youth she experienced firsthand the hardships of WW II as the area where she lived was theatre to several battles between the American troops and the Germans. Coming from a farming family, the Ribollita was a very popular dish that enabled the family to survive in those very difficult times.
After the war she moved to Northern Italy in search of work, but of course she continued to maintain her native Tuscan culinary traditions, refurbishing her pantry with Tuscan products every time she went back to Volterra to visit family and friends.
Continuing on her tradition of moving to new areas, she has happily reached the age of 80 and now lives in Rome with her husband, her son and his family which includes also two lovely granddaughters.

Today she spends her time teaching her Tuscan recipes to her granddaughters which are very much in demand by not only the immediate family but by many friends as well. However, when Nonna Lina is concentrated in her kitchen, she wants to be absolutely left alone and, when some dish does not come out according to plans, you can enjoy the most eloquent Tuscan dialect epithets coming out of her kitchen.
Nonna Lina Giovannini