Bistecca alla Fiorentina - Steak
Bistecca alla Fiorentina - When you travel to Tuscany, this steak is a must!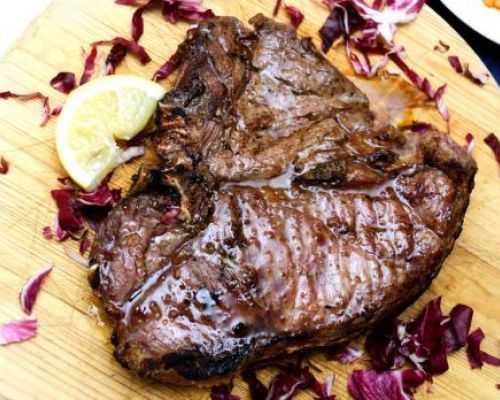 Ingredients
For 2 Person(s)
For the Steak
1

Chianina Steak - 2 pounds, about 1 1/2 inch thick (T-Bone steak or Porterhouse steaks are good substitutes)

1/2

cup

white wine

4

tablespoons

extra virgin olive oil

1

lemon, juice only

salt & pepper

sprig of fresh rosemary
Directions
Prepare your hot coals or a good barbeque grill. Bring to high temperature.

In a cup, mix the white wine, EV olive oil and lemon juice.

Add a generous amount of salt & pepper. Mix well.

Place the steak on the fire and cook each side for 2 minutes.

With the rosemary sprig, brush both sides of the steak with wine mix.

Cook for an additional 5-6 minutes.
Recipe Notes
The Chianina is an Italian breed of cattle, formerly principally a draught breed, now raised mainly for beef. It is the largest and one of the oldest cattle breeds in the world. The famous Bistecca alla Fiorentina is produced from its meat. One of the oldest breeds of cattle, the Chianina originates in the area of the Valdichiana, from which it takes its name, and the middle Tiber valley. Chianina cattle have been raised in the Italian regions of Tuscany, Umbria and Lazio for at least 2200 years.

Reviews
Thursday, 14 December 2017
I have made Bistecca alla Fiorentina several times Rosella, but truly want to try the real deal in F...
See Full Review >>
- paige1and2