Eggplant alla Calabrese
Eggplant alla Calabrese... from the region that invented Eggplant Parmigiana.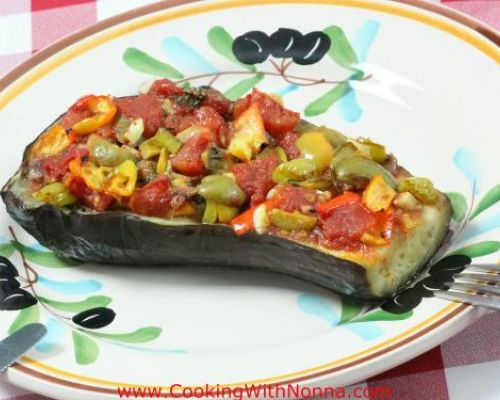 Ingredients
For 8 Person(s)
For the Eggplant:
8

small eggplant

20

green olives

16

anchovies fillet

2

cups

diced tomatoes

7

basil leaves

oregano

1

green pepper, cut in small cubes

2

cloves garlic, very finely chopped

4

tablespoons

extra virgin olive oil

peperoncino

salt
Directions
Cut the eggplant in half, make a few incisions in the white part and boil them for about 10 mins. Drain them and let them cool off.

Preheat the oven at 400F.

In a bowl, add the Diced Tomatoes, the olives cut in half, the anchovies cut in small pieces, the pepper, the oregano, the garlic, some peperoncino, as desired, and the basil. Mix well, EV olive oil and salt and mix well again.

Take a baking pan, coat it with olive oil and position the eggplant halves facing up. Fill each eggplant with the mix. Drizzle some more olive oil and bake for 30 mins.