Grandma Jennie's Mustaccioli
My Nonna & mother used to make these wonderful spicy chocolate biscotti. We have tried to perfect the recipe over the years. I hope my Nonna Giulia & mother Giovanna (Jennie) are proud!!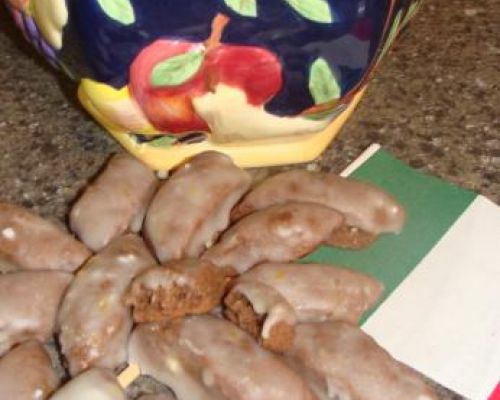 Ingredients
For 6 Dozen(s)
For the Cookies:
1/4

cup

scalded milk, cooled

3

eggs

1

tablespoon

baking powder

3 1/2

cup

flour

3

sticks

butter, melted

2

ounces

unsweetened chocolate, melted

4

ounces

German sweet chocolate, melted

1/8

cup

citron, chopped fine

1/4

cup

raisins, chopped fine

1/8

teaspoon

cloves

1/4

teaspoon

cinnamon

1/4

teaspoon

nutmeg

3/4

cup

sugar
For the Glaze:
4

cups

confectioner's sugar

1/4

cup

water

1/4

cup

orange juice or Grand Marnier

1/4

teaspoon

orange extract
Directions
Mix melted butter & chocolates together & cool. Simmer raisins in water til plump & cool.

Beat eggs til fluffy. Add sugar gradually. Stir in butter & chocolate. Place sifted flour, baking powder & fruit in large bowl. Make a well & add egg, sugar, chocolate & butter mixture. Add milk. Mix by hand.

Dough will be tacky. Refrigerate overnight.

Pinch dough & roll out to 1 inch thick & 12 inches long. Flatten slightly. Cut on the diagonal.

Lightly grease cookie sheet. Bake at 400 degrees for 5-10 minutes until top of cookie is not moist & slightly soft. DO NOT OVERCOOK.. Let the cookies cool

For the Glaze

Place liquid ingredients in a pan. Heat. Stir in sugar until dissolved.

Dip cookies in glaze & allow to harden.
Reviews
Sunday, 22 April 2018
These were the cookies my mother-in-law made! Hooray! Thank you.
- Grandmachissy1