Limoncello Tiramisu`
Limoncello Tiramisu`, a dessert recipe with all the flavors of summer!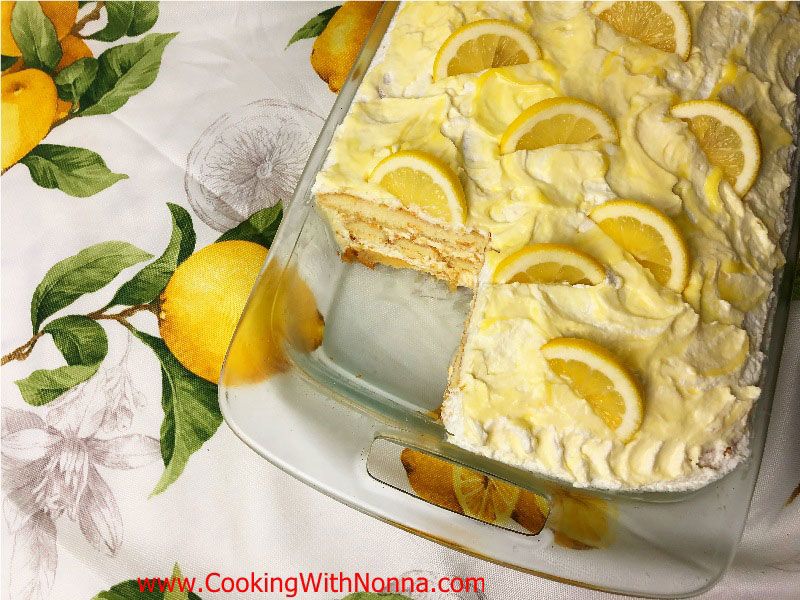 Ingredients
For 10 Person(s)
For the Lemon Curd:
1/2

cup

fresh lemon juice

3

large eggs

2

large egg yolks

6

tablespoons

unsalted butter

1/2

cup

granulated sugar

2

lemons, zest only
For the Filling:
1

pound

mascarpone cheese, room temperature

2 1/2

cups

heavy cream

1/4

cup

confectioners sugar
For the Soak:
2

cups

limoncello

3/4

cups

water

about 60-65 ladyfinger cookies

fresh lemon slices for decorating
Directions
Get the Italian Lady Fingers

HERE

To make the lemon curd:

See Video

HERE

In a bowl, whisk the whole eggs and egg yolks together and set aside.

In a heavy bottomed sauce pan combine the sugar, lemon zest, juice and egg mixture together and whisk on a medium low heat until mixture thickens and can coat the back of a spoon. About 15-20 minutes.

Stir in butter and then remove from heat when it's melted.

Pour the lemon curd through a fine mesh strainer into another bowl straining out any lumps. Press plastic wrap directly into the lemon curd and cool to room temperature before using.

To make the filling:

Scoop out 1/4 cup of the cooled Lemon Curd and set aside.

In a large mixing bowl combine the remaining cooled lemon curd with the softened mascarpone cheese. Mix with an electric mixer on medium-high speed until smooth. Set aside.

Using clean beaters in a separate bowl combine the heavy cream and confectioners sugar and beat until stiff peaks form.

Fold half of the whipped cream into the mascarpone/lemon curd mixture until well combined. Set aside.

To make the soak:

In a shallow dish with high sides combine the Limoncello and water. If you prefer a less strong soak you can substitute some of the Limoncello with water.

Dip each lady finger cookie into the Limoncello mixture. Do not leave the cookies soaking or they will absorb too much liquid and get soft. Only dip for a maximum of 5 seconds. Lay the cookies in a 9x13 pan (I used a glass Pyrex) break the cookies to fit them in if necessary. I did two rows of 7 cookies vertically and two rows of 2 cookies horizontally, but just make sure the cookies fit nicely together.

Spoon 1/2 of the lemon filling over the first layer of cookies. Add another layer of cookies and spread the remaining lemon filling over them. Add a third layer of cookies and top with the remaining whipped cream.

Using the remaining 1/4 cup of lemon curd, spoon it over the top of the whipped cream and use the back of a small spoon to make swirly designs. Decorate with fresh lemon slices.
Reviews
Sunday, 10 May 2020
Delicious recipe....just made it for Mother's Day. But it says 60 ladyfingers for a 13 x 9 pyrex, wh...
See Full Review >>
- supah35
Saturday, 09 May 2020
Love this recipe! Perfectly proportioned ingredients. Love yhat you can actually taste the Limoncell...
See Full Review >>
- Cgaudioso
Sunday, 05 January 2020
This cake was way too strong for my liking—it is overpowering, which takes away from the wonderful...
See Full Review >>
- Calamar
Friday, 01 November 2019
Very easy recipe to follow, however, I think it has too much Lemoncello. The next time I make it I w...
See Full Review >>
- DoreenSnow
Thursday, 08 November 2018
The recipe doesn't say how much zest to use but it's listed in the directions for the curd
- Evergreen123
Tuesday, 28 August 2018
This is a wonderful recipe! However for neophyte cooks, it would help to know that the ladyfingers s...
See Full Review >>
- Rcowens