Chicken alla Cacciatora
Chicken alla Cacciatora... just the way a hunter would cook a chicken.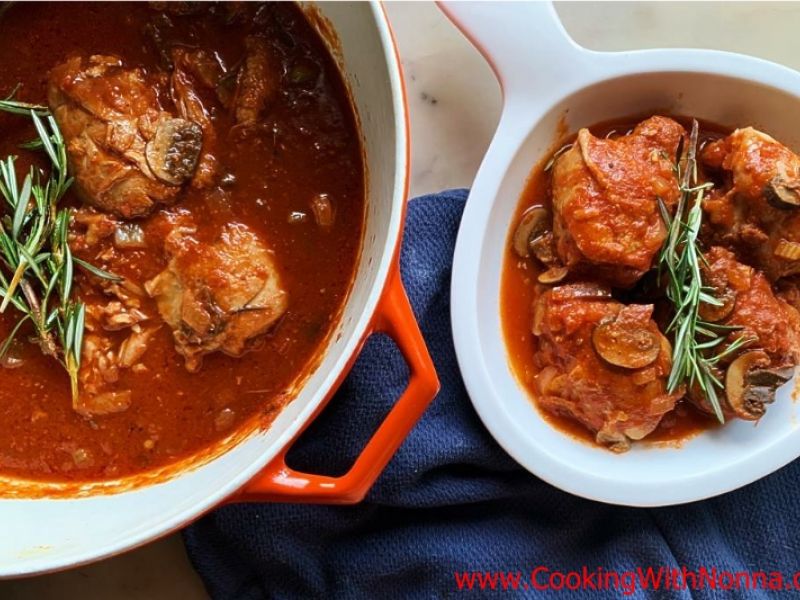 Ingredients
For 4 Person(s)
Recipe
8

pieces of dark meat chicken (Thighs and Drumsticks)

1

ounce

dried Porcini mushrooms soaked and chopped small. (Reserve the soaking liquid)

3

Celery Stalks cut into 1/4 inch pieces

10

ounces

baby Portobello mushrooms cubed

2

small shallots sliced

2

medium onions cut into 1/8ths

4

ounces

Speck cubed

1

cup

white wine

2

sprigs fresh rosemary

29

ounces

crushed tomatoes

extra virgin oil to cover the bottom of the pot

flour for dredging

salt and black pepper
Directions
Soak the porcini mushrooms in 1 cup warm water. Chop the mushrooms small and set aside. Pour the soaking liquid through a coffee filter and set aside.

Season the chicken with salt and black pepper. Dredge all the pieces of chicken with flour. Set aside

In a large Dutch Oven brown the chicken in the oil 2-3 minutes on each side. Set aside on a paper towel lined plate.

In the remaining oil, add the rosemary sprig and saute about 2 minutes. Add the speck and saute another 2-3 minutes.

Add the celery and onions and saute until the edges begin to brown, about 3-5 minutes.

Add the chicken back to the pot.

Add the wine and reduce until no more alcohol can be sensed.

Add the porcini mushrooms and soaking liquid and bring to a boil.

Add the tomatoes. Bring to a boil and simmer.

Add the portobello mushrooms and salt to taste. Cover and simmer about 5 minutes for the mushrooms to soften. Uncover until sauce is reduced and chicken is tender about 15 mins.

Remove the rosemary sprig and serve.
Recipe Notes
Tip- The extra sauce can be saved and served with pasta!
Reviews
Thursday, 14 December 2017
San Marzano tomatoes take this over the Top
- stoneman59
Thursday, 14 December 2017
This is Speck: http://www.cookingwithnonna.com/italian-cuisine/category/speck-alto-adige-recipes.ht...
See Full Review >>
- rossella rago
Thursday, 08 September 2016
what is speck
- MommomB