Nutella Strawberry Shortcake
Nutella Strawberry Shortcake... a cake for all occasions!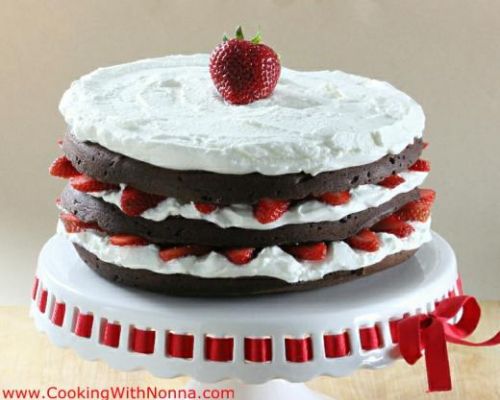 Ingredients
For 10 Person(s)
For the Cake:
1 1/4

cups

all purpose flour

6

large eggs

9

tablespoons

unsweetened cocoa powder

3

cups

Nutella (room temperature)
For the Filling:
2 1/2

cups

heavy whipping cream

1/4

confectioners sugar

10

ounces

strawberries sliced
Directions
Preheat oven to 350 degrees.

In a stand mixer add the Nutella and Eggs and mix until combined. Add the flour little by little until well mixed. Add the cocoa powder and mix well.

Pour the batter evenly into 3 nine inch greased cake pans. Bake for 15-20 minutes or until an inserted toothpick comes out clean. (I recommend baking 2 of the layers together and then baking the third separately)

Whip the heavy cream with the confectioners sugar until stiff peaks form. Set aside.

Assembly:

Cool the cakes completely and then cut them to level if the cakes are very uneven.

Spread a layer of whipped cream over the first layer to the edges. Arrange the slices of strawberries so the tips peak out over the outer edges. Fill in the rest of the space with sliced strawberries.

Repeat for the second layer.

Cover with the last layer and spread the remaining whipped cream over the top. Decorate with either more Strawberry slices or a single strawberry.
Categories:
Dessert & Cookie Recipes
,
Baking with Rossella
,
All Recipes
,
Christmas Recipes
,
Thanksgiving Recipes
,
Easter Recipes
,
Valentine's Day Recipes
,
Nutella Recipes
,
Mother's Day Recipes
,
Father's Day Recipes
,
Easter Cakes and Cookies
,
Valentine's Cake and Cookie Recipes
,
Valentine's Day Nutella Recipes
,
Cakes and Pies Recipes
,
Summer Dessert Recipes
,
Thanksgiving Dessert Recipes
,
Christmas Dessert Recipes