Purceddi in Vin Cotto
Purceddi in Vin Cotto: another old Christmas tradition from Puglia!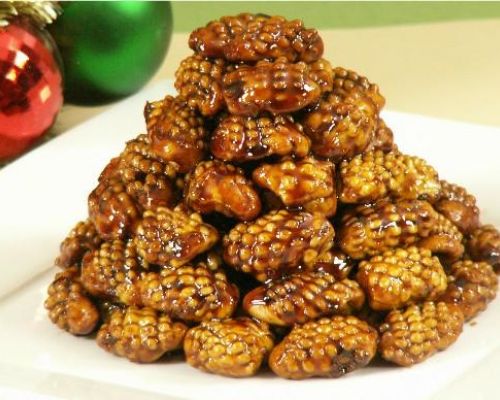 Ingredients
For 12 Dozen(s)
For the Purceddi:
2

pounds

all purpose flour

1 3/4

cups

dry white wine

1/2

cup

olive oil

2

cups

Vin Cotto (made from figs) or Honey

cinnamon powder

olive oil for frying
Directions
In a KitchenAid Stand Mixer bowl, add the olive oil and the wine and mix the two. Add the flour and continue to mix until the flour and the liquids are completely amalgamated and the dough is firm.

Take a small piece of dough and roll it with your hands on a wood board to create a long stick about 1/2 inch thick.

Cut the stick into pieces of about 1/2 inch long.

Take each of the pieces and with your index finger press it against the reverse side of a cheese grater so that you will have lumps on one side and it will be somewhat hollow on the other side.

Fry all the Purceddi in olive oil until they are lightly golden.

Heat the Vin Cotto in a pan and while the Vin Cotto is still warm, dip a handfull of Purceddi in the Vin Cotto until they are completely covered. Remove and place in a platter for presentation or storage.

Before serving add a sprinkle of cinnamon.
Recipe Notes
If you do not have Vin Cotto, you can substitute it with honey.