Limoncello Crinkle Cookies
Limoncello Crinkle Cookies.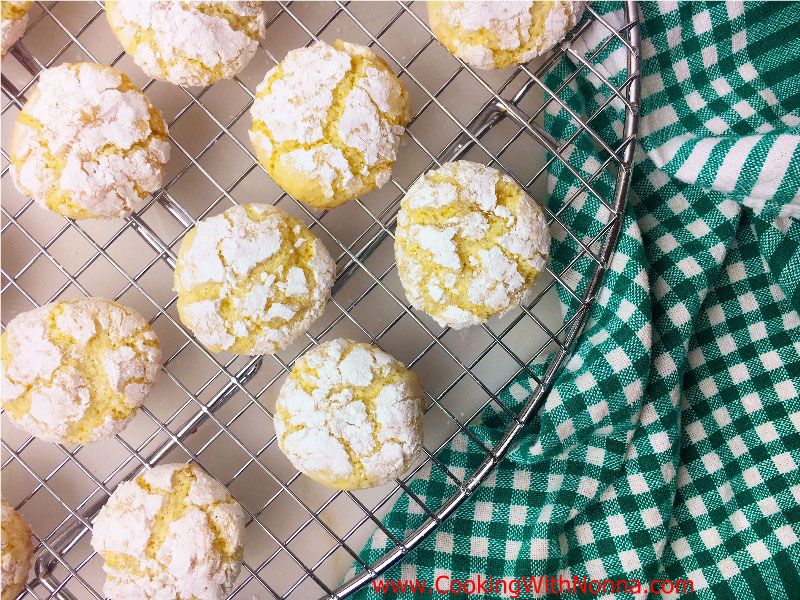 Ingredients
For 2 Dozen(s)
For the Cookies:
8

ounces

almond paste

1/4

cup

granulated sugar

2

tablespoons

cornstarch

1/2

teaspoon

baking powder

2

lemons, zest only

2

tablespoons

limoncello liqueur or lemon juice

1

large egg white, beaten

confectioners sugar for rolling
Directions
Preheat your oven to 350 degrees.

Line a baking sheet with parchment paper or aluminum foil and spray with baking spray. Set aside.

In a large mixing bowl grate the almond paste with a large cheese grater. Add the sugar, cornstarch, baking powder, zest and limoncello. Beat with an electric mixer until smooth. Add in the beaten egg white and mix with the mixer until fully incorporated and smooth.

Using a small ice cream scoop or two teaspoons drop a small dollop of dough, about 2 teaspoons into confectioners sugar. Spoon some confectioners sugar. Spoon some sugar over the dough so it is evenly coated with sugar before you attempt to roll it. Roll into little balls. Place on prepared baking sheets 2 inches apart. Bake for 10-12 minutes. The cookies may be soft out of the oven but will firm up as they cool. Avoid moving them from the baking sheet until cool.
Reviews
Tuesday, 31 December 2019
DO NOT ADD FLOUR!! Make exactly as directed. The dough will be sticky and won't hold a shape until...
See Full Review >>
- Landslydek9
Wednesday, 20 December 2017
Made these cookies over the weekend and my entire family loved them! At first, I thought the dough w...
See Full Review >>
- kbruno
Wednesday, 20 December 2017
I was very excited to make these cookies! After looking in my pantry I was happy to see that i had a...
See Full Review >>
- Tannireec45
Wednesday, 20 December 2017
The dough is very soft but you should not add flour. You first drop the dough into the sugar and th...
See Full Review >>
- rossella rago
Tuesday, 19 December 2017
I was really looking forward to making these cookies. Something went very wrong. The batter was too ...
See Full Review >>
- Mollica