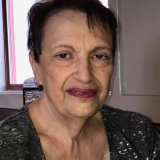 NannyAngela3
My Golden Pots:

My Nonna Points:
7
Member of La Famiglia since:
11/10/2018
Female Mother Pretty Good!
Is there any recipe for Struffoli where you bake them instead of frying?

rossella rago
Traditionally Struffoli are fried. However, any of the Struffoli recipes can be baked as well. Of course the consistency will not be the same!
5 years ago


I am fairly new to the site. I clicked the save button for
recipes I liked but I cannot find how to retrieve them. Can someone help direct me please.

rossella rago
At the top of this page, next to the Home icon, click on the Profile tab and you will see the My Favorite Recipes tab... click on it!
5 years ago


The items on Christmas Sweets are what my mom used to make every Christmas. I do not have the recipe but would love to try and make them. I don't remember what they were called. Please help with recipe. I would be so happy. Thank you




NannyAngela3
I am looking for the item in the picture when you bring up Christmas Sweets. They look like a round swirl and I remember my mother dipping them in hot honey or the fig syrup. Hope you can help. My...
I am looking for the item in the picture when you bring up Christmas Sweets. They look like a round swirl and I remember my mother dipping them in hot honey or the fig syrup. Hope you can help. My mom is gone 42 years and haven't had it since. Thank you
Show more
5 years ago