Baked Pennette with Mortadella
On a chilly day, there is nothing better than smelling the aroma of Baked Pennette with Mortadella. Make this dish with Ziti, Penne, Fusilli, or any pasta that you prefer.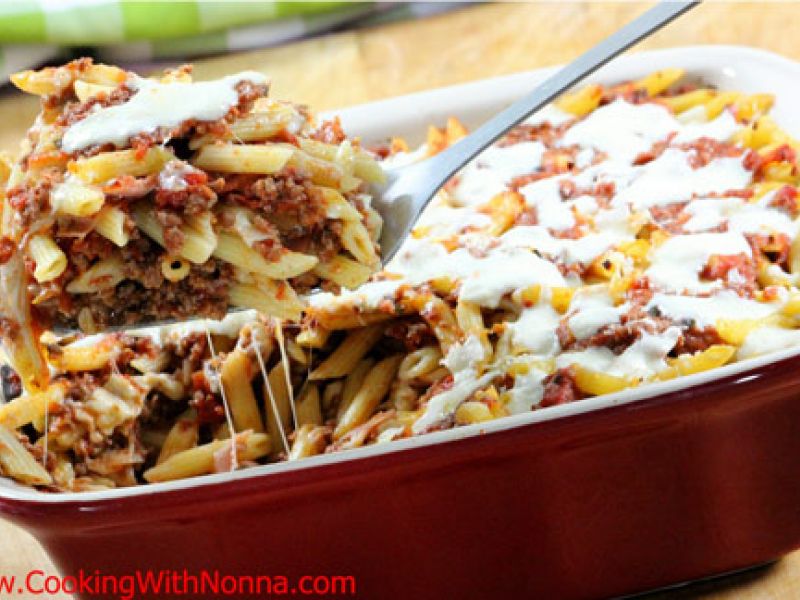 Ingredients
For 4 Person(s)
For the Pennette:
1

pound

Pennette pasta

1

pound

ground beef

28

ounces

chopped tomatoes

4

cloves garlic, chopped

4

leaves of sage

2

bay leaves

3

tablespoons

extra virgin olive oil

1/2

cup

red wine

pepper flakes

salt

grated Parmigiano cheese

1/2

pound

mozzarella

1/4

pound

mortadella
Directions
In a saute pan, add the EV olive oil and the chopped garlic.

Let the garlic saute for a few minutes until it turns lightly golden and add the ground meat.

Saute the meat by braking it up with a wooden spoon.

Add the bay leaves and the sage leaves broken by hand. Add salt and red pepper flakes as desired.

Saute the meat until it turns brown. Add the red wine.

Let the alcohol evaporate for a few minutes and add the chopped tomaroes.

Turn the flame to medium and cover the saute pan.

Cook for about 20 minutes.

Pre-heat the oven at 400F.

Cook the Pennette half way thru, drain the water and blanch the pasta.

Take a deep dish baking pan and add a layer of sauce at the bottom. Follow with a layer of pasta, a coating of sauce and pieces of Mortadella. Add shreds of Mortadella and a generous sprinkle of Parmigiano cheese.

Repat the layering process until you have used up all the pasta.

Do not add Mozzarella on the final layer. You will add it in the last 10 minutes of the baking process.

Bake the pasta for about 20 mins. After 10 mins. add a coating of Mozzarella on top.
Categories:
First Course Recipes
,
Meat Recipes
,
Italian Pasta Recipes
,
All Recipes
,
Christmas Recipes
,
Thanksgiving Recipes
,
Easter Recipes
,
Cooking with Rossella
,
Valentine's Day Recipes
,
Mother's Day Recipes
,
Father's Day Recipes
,
Baked Pasta Recipes
,
Valentine's Day  Recipes
,
Thanksgiving First Course Recipes
,
Christmas First Course Recipes
,
Easter First Course Recipes