Ferrero Rocher Cupcakes filled with Chocolate Ganache
I love the elegant look these Ferrero Rocher Cupcakes have. I thought I would make them not only beautiful but packed with a chocolatey ganache filling for the ultimate decadent treat. I adapted a famous chocolate cupcake recipe because I love how much moisture the Buttermilk adds. Honestly, I couldn't stop tasting the raw batter while I was making these. I know it's a no no, but what can I say, I like to live on the edge! Of course I had to top them with my super easy Nutella mascarpone mousse because I believe in using Nutella wherever you can and I think it tastes divine with the chocolates on top!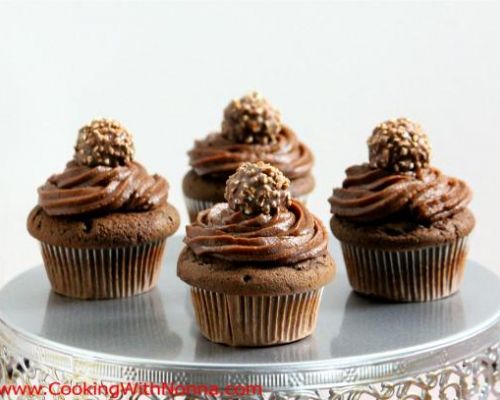 Ingredients
For 2 Dozen(s)
For the Cupcakes:
6

ounces

unsweetened chocolate broken into small pieces

2

cups

cake flour

1

teaspoon

baking soda

1

cup

buttermilk at room temperature

1

teaspoon

vanilla extract

8

ounces

unsalted butter at room temperature

1

cup

granulated sugar

1

cup

light brown sugar

4

large eggs
For the Ganache Filling:
1/2

cup

semisweet chocolate chips

1/2

cup

heavy whipping cream
For the Icing:
Nutella mascarpone mousse (see recipe below)

24

Ferrero Rocher Chocolates
Directions
Preheat oven to 350 degrees. Line cupcake tins with cupcake papers.

Melt the chocolate over a double boiler or in a microwave. Set aside and allow to cool slightly.

In a small bowl, mix the flour and baking soda.

In another small bowl, mix the buttermilk and vanilla, and set both bowls aside.

In the bowl of a stand mixer beat the butter, sugar and brown sugar together until fluffy.

Add the chocolate and the eggs, one at a time waiting until each is fully mixed in before adding the other.

Alternate adding the flour mixture and buttermilk mixture until everything is combined. Do not over mix.

Using an ice cream scoop divide batter into tins and bake for 20-25 minutes. Cool completely before filling and icing.

For the chocolate ganache place the chocolate chips in a small bowl and set aside. Heat the the heavy cream in a small sauce pan and almost bring to a boil. Pour the heavy cream over the chocolate and let it sit for about 3 minutes.

Whisk the mixture together until fully combined and glossy. Once completely cooled the ganache will thicken. Place into a disposable pastry bag or a plastic zipper bag with the corner cut off

Using a sharp knife or an apple corer remove the center of the cupcake. Fill each of the cupcakes and cover with the removed piece of cupcake.

For Nutella Mousse Recipe:

HERE

Frost each cupcake with the Nutella Mousse using a star tip with a pastry bag or frost by hand and decorate with Ferrero Rocher chocolates.
Categories:
Dessert & Cookie Recipes
,
Baking with Rossella
,
All Recipes
,
Christmas Recipes
,
Thanksgiving Recipes
,
Easter Recipes
,
Valentine's Day Recipes
,
Super Bowl Recipes
,
Nutella Recipes
,
Mother's Day Recipes
,
Father's Day Recipes
,
Easter Cakes and Cookies
,
Valentine's Cake and Cookie Recipes
,
Cupcake Recipes
,
Thanksgiving Dessert Recipes
,
Christmas Dessert Recipes
Reviews
Saturday, 01 February 2020
Hello, in this recipe it asks for 1 buttermilk at room temperature. Is it 1 cup of buttermilk?
- Angie1968
Monday, 15 April 2019
These cupcakes look awesome but where is the Nutella mascarpone mousse recipe? Did I miss it somewh...
See Full Review >>
- lyb
Thursday, 14 December 2017
Sorry!!!! All fixed now! :)
- rossella rago
Thursday, 08 September 2016
Where are the directions for making the filling ? How (directions) are these filled ?
- bettydee