Fusilli with Sausage Ragu
This dish is a perfect, quick Sunday sauce but I've even been known to whip it up on a Tuesday! I love how the fusilli grabs the sauce and the sausage Ragu really hits that Sunday sauce spot!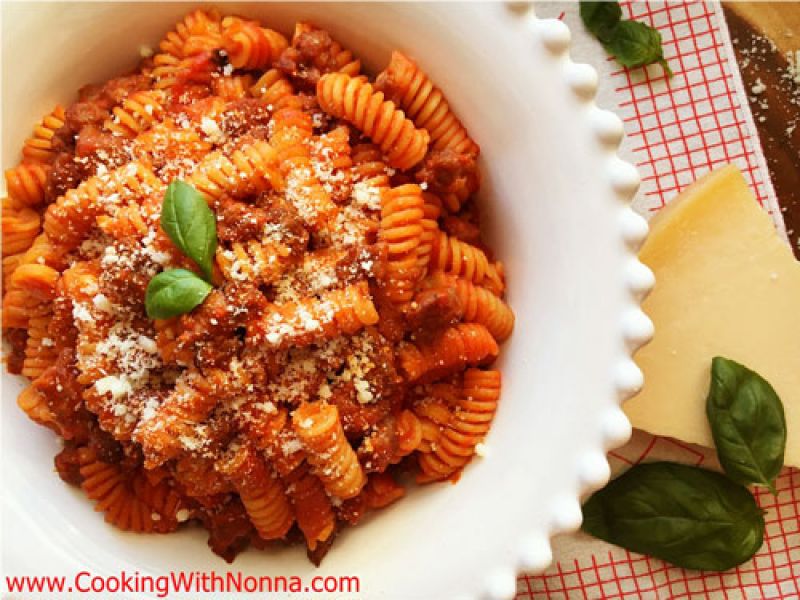 Ingredients
For 4 Person(s)
For the Pasta:
3

tablespoons

extra virgin olive oil

3

cloves garlic, sliced

1

sweet Italian sausage, casing removed

1/2

cup

red wine

24

ounces

Passata, or any Italian Tomato Puree

1/2

teaspoon

salt

3

basil leaves

1

pound

dried Fusilli pasta

1/2

cup

grated Parmigiano Reggiano cheese
Directions
Put a large saute` pan over a medium flame and heat the oil. Add the garlic and saute` for 30 seconds. Add the sausage to the pan and saute` while breaking it up with a wooden spoon. Cook until all the sausage is nicely browned, about 6-7 minutes.

Add the wine and scrape up any bits from the bottom of the pan. Cook until you can no longer smell the alcohol, about 4-5 minutes.

Add the tomato puree and the salt. Fill the jar about halfway with water. Swish it around and add it to the pan. Tear the basil leaves in half and add them to the pan as well. Bring the sauce to a boil and then lower the flame to low. Simmer for 20-25 minutes while stirring occasionally with a wooden spoon.

Drop the pasta into a pot of generously salted boiling water and cook until slightly harder than al dente. Drain and add to the sauté pan with the sauce over medium heat for 1-2 minutes. Turn off the flame and add the parmigiano cheese to the pasta, allowing the residual heat of the pan to melt the cheese. Serve in warm bowls.