Chocolate Amaretti Cookies
Chocolate Amaretti Cookies.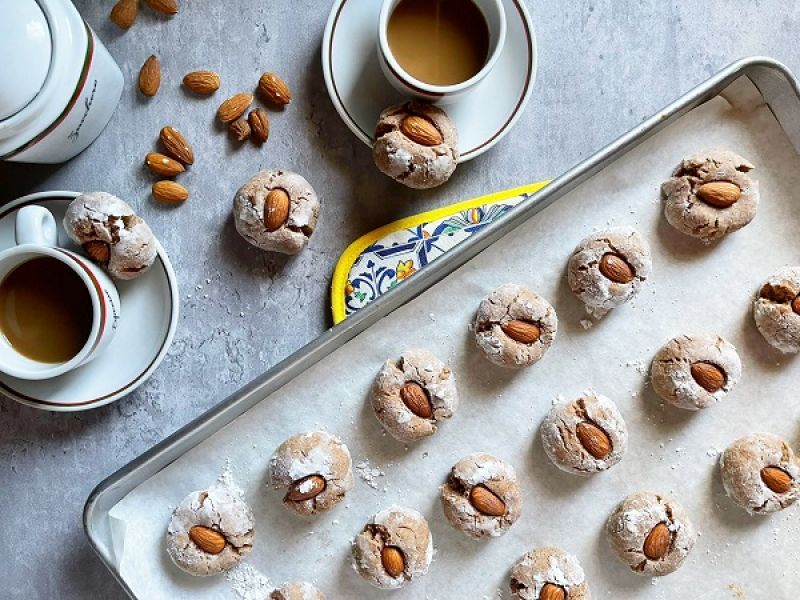 Ingredients
For 2 Dozen(s)
For the Cookies:
4

cups

almond flour

1

cup

granulated sugar, plus more for rolling

1

tablespoon

unsweetened cocoa powder

2

large egg whites

pinch of salt

2

teaspoons

almond extract

2

tablespoons

brewed espresso coffee

confectioners sugar for rolling

raw almonds for decorating
Directions
Preheat your oven to 325 degrees. Line 2 baking sheets with parchment paper. Set aside.

In a mixing bowl, whisk together the almond flour, sugar and cocoa powder until combined.

In another mixing bowl, add the egg whites, pinch of salt and the almond extract. Beat with an electric mixer until stiff peaks form.

Gently fold the dry ingredients into the egg whites and mix with your hands until a dough that holds its shape forms. Add in the espresso coffee and mix with your hands until incorporated.

Add some granulated sugar to a shallow dish. Add some confectioners sugar to a separate shallow dish.

Take a level tablespoon of dough (I used an actual tablespoon to measure) and roll it into a ball. Roll the ball in the granulated sugar first and then in the confectioners sugar.

Place the cookies on the parchment lined baking sheet and place the raw almond on top, making sure to press each Almond into the cookie and flattening them slightly.

Bake for 15-18 minutes or until the bottoms begin to brown.

*The cookies may still feel slightly soft out of the oven, but they will firm up as they cool.