Mezzi Rigatoni with Sausage & Peppers
Mezzi Rigatoni with Sausage & Peppers... an explosion of flavors in your dish!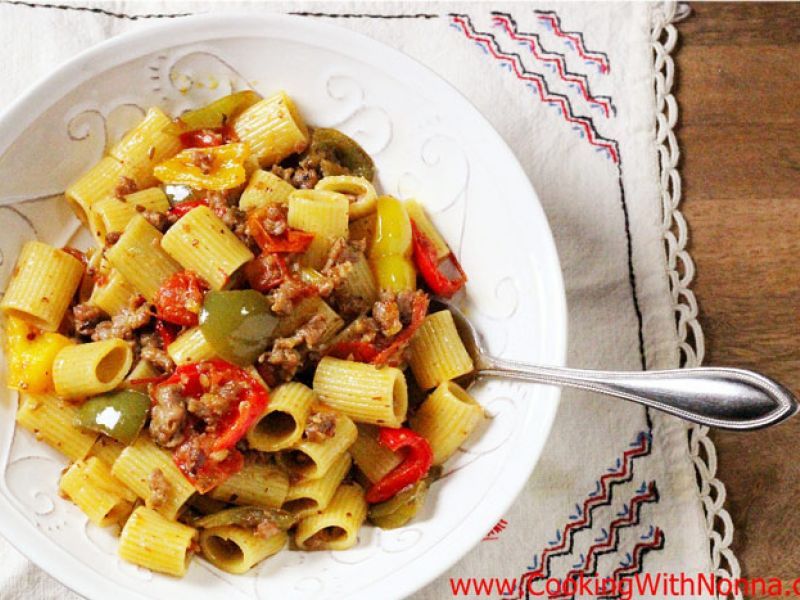 Ingredients
For 4 Person(s)
For the Pasta:
1/4

cup

extra virgin olive oil. divided

1

pound

sweet Italian sausage, casing removed

1

medium onion,cut into 1/2 inch dices

3

bell peppers (1 red, one green, 1 yellow) washed, seeds removed and cut into 1 inch pieces

10

cherry tomatoes, halved

1/2

cup

white wine

salt, as desired

red pepper flakes, as desired

1

pound

mezzi rigatoni pasta
Directions
Put a large sauté pan over a medium-high flame and heat 2 tablespoons of the oil. Add the sausage to the pan and sauté while breaking it up with a wooden spoon. Cook until completely browned, about 5-7 minutes. Remove the meat from the pan and set aside.

In the same pan, heat the remaining oil and add the onion. Cook until the onion has softened, about 5 minutes and add the peppers and the tomatoes.

Sauté for 5 minutes and add the wine. Cook for about 3-4 minutes or until you can no longer smell the alcohol. Taste for seasoning and season with salt and red pepper flakes as desired.

Add the sausage back to the pan and let everything cook at medium flame for about 10 mins.

Drop the mezzi rigatoni into generously salted boiling water and cook until slightly under al dente. Add the pasta to the pan and toss for 1-2 minutes. Serve in warm bowls.