Pork Roast with Porcini Mushrooms
Posk Roast with Porcini Mushrooms... my first recipe ever using a Le Creuset French Oven... fantastic results!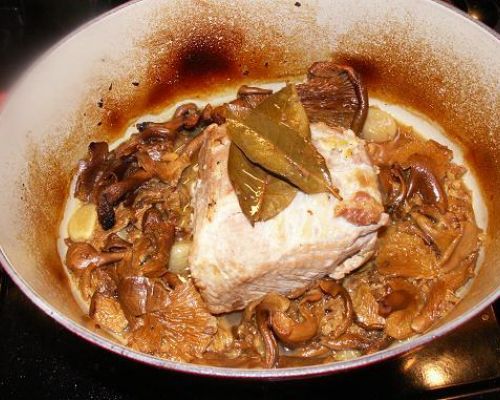 Ingredients
For 4 Person(s)
For the Roast:
2

pounds

top round pork roast

2 1/2

cups

dry white wine

1

cup

half and half or heavy cream

1

cup

dried Porcini mushrooms or 2 Cups of fresh Porcini mushrooms

4

cloves of fine minced garlic

6

cloves of whole garlic

3

dried bay leaves

4

tablespoons

extra virgin olive oil

1

tablespoons

white truffle oil (optional you may substitute with EVOO)

salt and pepper to taste
Directions
For the Roast:

Oil the bottom of a Dutch Oven or any cast iron skillet with a lid that can go from the stove to the oven with EV olive oil.

Lightly oil the pork roast with truffle oil and coat with minced garlic, salt and pepper.

Over a high heat, brown each side of the roast.

Add white wine, garlic cloves, bay leaves and Porcini mushrooms. The mushrooms will cook in the liquid.

Cover and place in oven at 350F for 90 minutes or until juices run clear when the thicker part of the roast is pierced with a sharp knife.

Let roast sit for 20 minutes

For the Sauce:

Let the roast rest on a separate plate.

Place the liquid, whole garlic cloves, and mushrooms into a blender and puree.

Add puree back into skillet and whisk in cream over a medium flame. Pour over sliced roast and serve hot.
Categories:
Entree Recipes
,
Meat Recipes
,
Easy Recipes
,
All Recipes
,
Christmas Recipes
,
Thanksgiving Recipes
,
Easter Recipes
,
Cooking with Rossella
,
Valentine's Day Recipes
,
Pork Recipes
,
Super Bowl Recipes
,
Porcini Mushrooms Recipes
,
Mother's Day Recipes
,
Father's Day Recipes
,
Valentine's Day  Recipes
,
Easter Dinner Recipes
,
Christmas Dinner Recipes
,
Thanksgiving Entree Recipes
,
Christmas Entree Recipes
,
Easter Entree Recipes