Pumpkin Ravioli
Since Italy doesn't celebrate the American Thanksgiving holiday nor do they have a specific day of thanks, I put some thought into what dish would be proper for an Italian-American to serve that would honor both cultures. It turns out the ancient Romans celebrated a harvest festival called Cerelia, which honored Ceres, the goddess of agriculture and grain, hence the English word cereal. Of course a pasta dish would best grace the Italian-American table at Thanksgiving; the thing to consider is the sauce or filling. Which favorite seasonal ingredient is both present in the American Thanksgiving and also used in Italian cooking? Pumpkin; la zucca! So here is my recipe for pumpkin ravioli. Happy Thanksgiving and Buon appetito!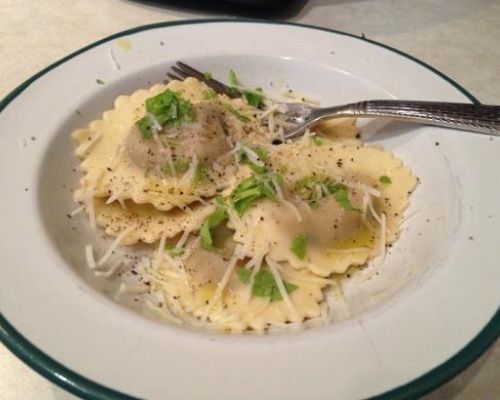 Ingredients
For 4 Person(s)
For the Filling
3 1/2

pounds

pumpkin

1/2

pound

freshly ground Parmigiano

nutmeg and salt and pepper to taste

1/2

teaspoon

heavy cream

butter, breadcrumb, sage, Béchamel sauce and parsley.
For the Dough:
make your favorite pasta egg dough recipe, which can also be found on the Cooking with Nonna website.
Directions
Prepare egg pasta dough as you would for ravioli

Cut the pumpkin in half and scoop out the seeds and stringy material.

Place the halves upside down in a large bowl filled with a couple of inches of water.

Cover the bowl with another bowl so that the pumpkin steams. Microwave for about 12 minutes.

When cool to the touch, scoop the flesh from the skin and place in a food processor with the Parmigiano, seasonings and cream.

Place a little of the pumpkin mixture in the center of each ravioli then seal.

Spread the ravioli on a lightly flour dusted cloth to dry for a while.

When ready to serve, boil ravioli in plenty of salted water until tender, or about 5 minutes. Drain and toss with melted butter and more Parmigiano.
Recipe Notes
Other serving options: Fry the ravioli in butter and toss with Parmigiano, toasted bread crumbs and chopped parsley. Another option is to serve with fried sage leaves or a Béchamel sauce and toasted walnuts.