Spaghetti with Broccoli Rabe and Vongole
Spaghetti with Broccoli Rabe and Vongole... an absolute winner!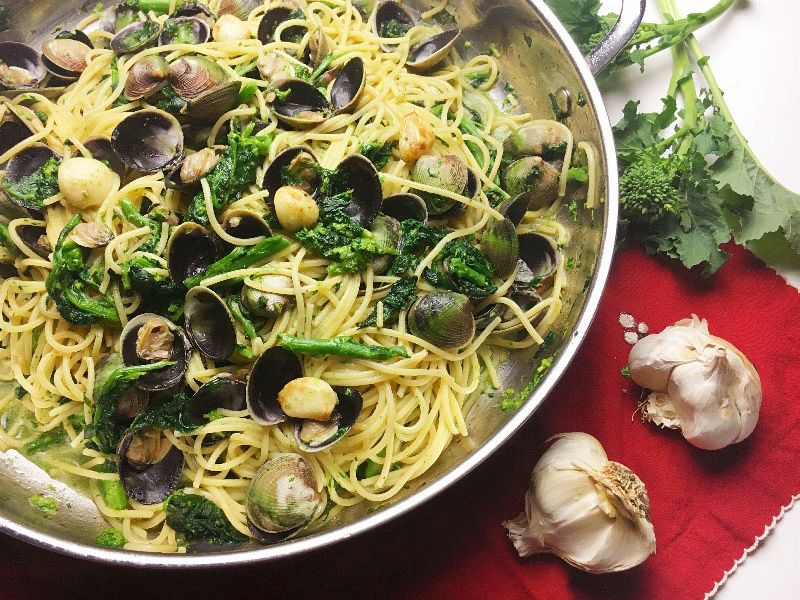 Ingredients
For 4 Person(s)
For the Pasta:
1

pound

spaghetti

1

pound

broccoli rabe

extra virgin olive oil

5

cloves garlic

hot pepper as desired

3

pounds

vongole - cockles or 3 dozens little neck clams

1/2

cup

white wine

2

tablespoons

fresh parsley
Directions
Wash very well the Vongole under cold water to remove any sand.

Blanch the broccoli rabe for 2-3 minutes and set aside.

In a large saute` pan, add 4 tablespoons of extra virgin olive oil and the garlic whole.

Saute` the garlic until it turns blonde.

Add the vongole and the white wine and 1/2 of the parsley. Add hot pepper as desired and cover the pan.

When the vongole are all open add the broccoli rabe and toss for 2-3 minutes.

Boil the spaghetti 3/4 of the way in the same water that you blanched the broccoli rabe and add them to the pan. Save 1-2 cups of pasta water and set aside.

Toss the spaghetti with all the other ingredients for about 3 minutes. If the spaghetti dry up, add some pasta water and continue tossing.

Add the remainder of the fresh parsley, give it a final toss and serve.
Categories:
First Course Recipes
,
Fish Recipes
,
Easy Recipes
,
All Recipes
,
Christmas Recipes
,
Easter Recipes
,
Cooking with Rossella
,
Broccoli Rabe Recipes
,
Mother's Day Recipes
,
Father's Day Recipes
,
Memorial Day Recipes
,
4th July Recipes
,
Labor Day Recipes
,
Clams - Vongole Recipes
,
Christmas Fish Recipes
,
Spaghetti Recipes
,
Italian Pasta Sauces
,
Easy Pasta Recipes
,
Mediterranean Diet First Course Recipes
,
Seafood Pasta Recipes