Apple, Potato & Bacon Pie with Pistachio Crust
A great addition to a thanksgiving meal, earthy potatoes, sweet apples and smokey bacon pair extremely well with aged white cheddar, goat cheese and onion. The twist in this pie comes from the pistachios carefully massaged into the crispy, flaky, buttery crust which tenderly cradles all these amazing ingredients.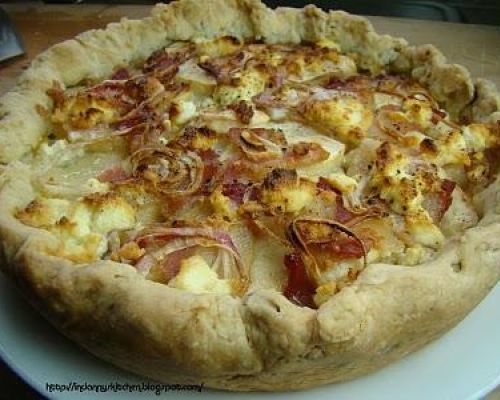 Ingredients
For 1 Batch(es)
For the Crust:
2

cups

all purpose flour

1

cup

butter cut in cubes

1/2

cup

chopped pistachio nuts

1

teaspoon

salt

8

tablespoons

ice water
For the Filling:
1

russet potato, boiled until tender

1

apple peeled, cored and sliced

6

slices of bacon, cut in 1 inch pieces

1

cup

shredded, aged white cheddar

1

cup

unripened goat's milk cheese

1

small red onion, thinly sliced

ground black pepper
Directions
To make crust combine flour, pistachios, salt and butter in a bowl.

Using a fork, gently mash together until fully combined.

Add water and mix together until all the flour in taken from the sides of the bowl and a dough ball has formed.

Wrap in plastic and refrigerate for 1/2 hour.

On a floured surface, roll out dough until it is big enough to fit a 9 inch pie dish.

Gently place dough in greased pie dish and set aside.

( This recipe will create a fairly thick pie crust )

Filling Pie- Sprinkle some grated cheddar into the base of the crust. Slice potato 1/4 thick and layer over the cheese, covering the entire base of the crust. Sprinkle remaining cheddar over potato and begin layering apple slices. Cover apple slices with bacon, goat cheese and onion then sprinkle with black pepper.

Place in a pre heated 375f oven and bake for 1 hour and 15 minutes.

Remove from oven and allow to cool slightly before serving.
Reviews
Thursday, 14 December 2017
Typical fall flavors with a twist!
- Danny Campo
Thursday, 14 December 2017
This looks great! I can smell it from here!
- vitorago
Thursday, 14 December 2017
It looks great!
- tlen
Thursday, 14 December 2017
Where can I purchase Unripened goat\'s milk cheese for the recipe above? Thanks. You can email me at...
See Full Review >>
- Mimi
Thursday, 14 December 2017
I could not find unripened goats cheese, so I used Sassy Goats Cheese, grated over the top with the...
See Full Review >>
- tiree2011
Thursday, 08 September 2016
Danny, loved it. Definitely on my make again list! Grandpa Jim
- jd51savas