Pizzelle for the Holidays
Pizzelle are enjoyed by everyone... I have introduced many of my friends to this special delight... I make them with anise oil and a touch of Galliano as well. You can really be creative and try to add a few of your favorite ingredients.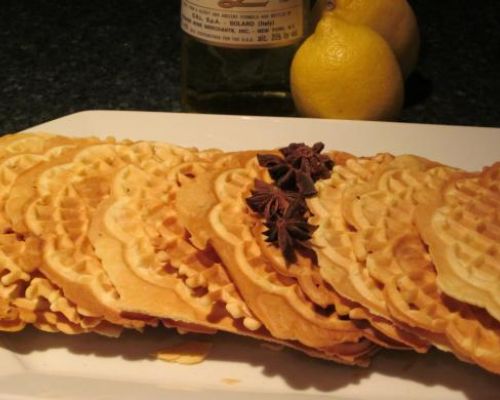 Ingredients
For 8 Dozen(s)
For the Pizzelle:
1

dozen

dozen large eggs

3 1/2

cups

sugar

2

cups

margarine (however I use butter)

1

tablespoon

vanilla extract

1

ounce

anise extract (I also use anise oil which is stronger, so I use a half a bottle)

9

cups

all purpose flour

1

tablespoon

salt

Liquore Galliano
Directions
Beat eggs and then add sugar and beat well.

Add melted margarine or butter.

Gradually add the mixture of flour and salt.

I then add about ¼ cup of the Galliano. You can add whatever amount you like.

I use a Kitchen Aid with the hook because there is a lot of flour in this recipe and the dough gets heavy, not a regular electric beater.

Refrigerate overnight or for a few hours to marinate the flavors.

Drop a big teaspoon in each pizzelle design. I have a 5 inch pizzelle iron.

I time the pizzelle for about 15-20 seconds.
Recipe Notes
The anise oil is quite strong and the dough will permeate your kitchen but the scent gets toned down after making the pizzelles. I store them in tin cans and they last forever. You make want to take a dozen pizzelle and dip one side of each one in melted dark chocolate for some variation.