Arborio Rice with Dry Fava Beans
Arborio Rice with dry Fava beans and sauted onions!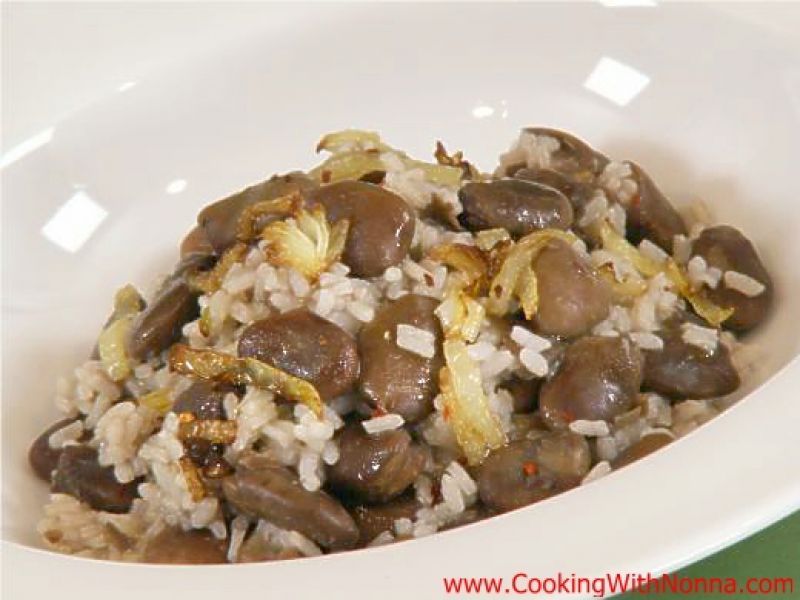 Ingredients
For 4 Person(s)
Recipe
1

pound

Arborio rice

3/4

pound

fava beans

1

medium onion

extra virgin olive oil

salt

peperoncino
Directions
The night before, with a knife remove the heads (the black part) from the Fava beans.

Put the fava beans in a pot, cover with water, about 1" over the Fava beans and add a pinch of salt. Let them soak overnight.

In the morning, put the Fava beans on the stove and cook at very low flame for about two hours (depending on size of Fava beans). Taste and shut off flame when they are Al Dente.

While the Fave finish cooking, cook the Arborio rice to an Al Dente consistency.

Combine the Fava beans and the rice in a serving platter.

Slice the onion and saute` it in 1/2 Cup of EV olive oil. The onion has to turn golden brown. Pour over all the ingredients, add some Peperoncino as desired and serve.
Categories:
Nonna Romana Sciddurlo
,
First Course Recipes
,
Puglia Recipes
,
Easy Recipes
,
All Recipes
,
Dry Fava Beans Recipes
,
Father's Day Recipes
,
Diabetic First Courses Recipes
,
Heart Friendly First Courses Recipes
,
Gluten Free First Courses Recipes
,
Vegetarian First Course Recipes
,
Vegan First Course Recipes
,
Mediterranean Diet First Course Recipes
,
Cucina Povera della Nonna