Chicken Cutlets with Fried Eggplant
Chicken Cutlets with Fried Eggplant... the marriage of two great foods!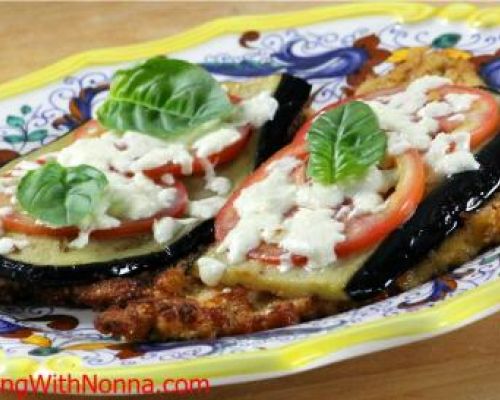 Ingredients
For 2 Person(s)
For the Cutlets:
4

slices of fried chicken cutlets (Recipe HERE)

1

medium eggplant

4

slices of fresh tomato

1/2

cup

mozzarella, shredded

olive oil for frying

salt
Directions
Make the Chicken Cutles as per this RECIPE.

Slice the eggplant longways in slice a little less than 1/2 inch thick.

Fry all the eggplant in olive oil until they are lightly golden. Remove from frying pan and lightly salt.

In a baking pan, put the chicken cutlets on the bottom, position a slice of eggplant on each cutlet, top with two slices of fresh tomato and some shredded mozzarella.

Bake at 350F until the mozzarella is melted.