Classic Garlic Bread
Nonna's Classic Garlic Bread... the simple things in life... are often the best!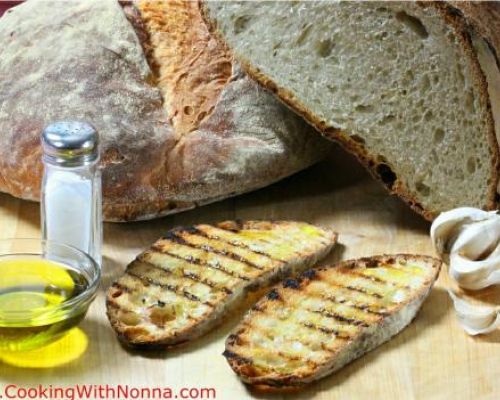 Ingredients
For 1 Person(s)
For the Bread:
2

slices of bread

1

clove garlic

extra virgin olive oil

salt
Directions
Take two slice of Italian bread cut a little less that 1/2" thick.

Toast one side the bread on a skillet or on the grill till it is lightly golden.

Cut the garlic in half and scrape it on the toasted side of the bread.

Sprinkle the bread with EV olive oil.

Sprinkle salt as desired.
Categories:
Nonna Romana Sciddurlo
,
Appetizer Recipes
,
Side Dish Recipes
,
Bread and Focaccia Recipes
,
Puglia Recipes
,
Easy Recipes
,
All Recipes
,
Christmas Recipes
,
Thanksgiving Recipes
,
Easter Recipes
,
Valentine's Day Recipes
,
Super Bowl Recipes
,
Mother's Day Recipes
,
Father's Day Recipes
,
Memorial Day Recipes
,
4th July Recipes
,
Panini/Sandwiches Recipes
,
Labor Day Recipes
,
Valentine's Day  Recipes
,
Summer Appetizer-Side Recipes
,
Vegetarian Appetizer Recipes
,
Vegan Appetizer Recipes
,
Mediterranean Diet Appetizer Recipes
,
Thanksgiving Appetizers and Sides Recipes
,
Christmas Appetizer Recipes
,
Easter Appetizer and Side Recipes
,
Cucina Povera della Nonna