Amelia's Easter Egg Bread
My late grandma, Amelia DeFusco, made this popular bread every Easter. It's a pretty dessert, loved by children for its sweet taste and its tinted eggs.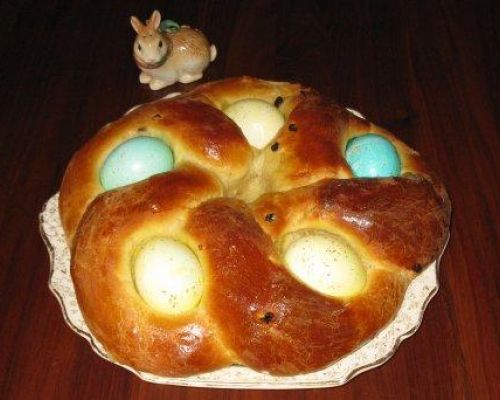 Ingredients
For 1 Batch(es)
Recipe
3 1/3

cups

all purpose flour

1/2

cup

sugar

1/3

cup

milk

1/2

teaspoon

salt

2

tablespoons

butter, margarine, shortening, or oil

1/2

cup

warm water

1

packet active dry yeast

2

large eggs

1/2

cup

raisins or 0.25 cup raisins and 0.25 cup candied fruit

1/4

cup

finely chopped almonds (optional)

1/2

teaspoon

anise extract (optional)

6

tinted but raw eggs

1

egg for egg wash
Directions
Scald the milk, and then stir in the butter. Set aside to cool to lukewarm.

If desired, proof the yeast in the water into which 2 t of the sugar has been added, and which has been warmed to 100oF.

Pour the milk mixture, eggs, water, yeast, sugar, salt and anise extract into large bowl.

Stir in 1 cup of flour and beat until smooth.

Add 2 more cups of flour to make a soft dough, adding additional water or flour as necessary.

Turn out the dough on a lightly floured board and knead for about 8 minutes, until the dough is smooth and elastic.

Put the dough into a greased bowl, and flip it over to grease the top. Cover with plastic wrap and let rise in a warm place until doubled in bulk—about 1 hour.

Turn out on a lightly floured board and thoroughly knead in the raisins, candied fruit and almonds.

Divide the dough in halves, and roll each half into a rope about 1 inch in diameter and 2 feet long.

Twist the ropes together and arrange them in a circle on a greased or parchment-lined baking sheet. Wet the ends of the ropes so they can be firmly joined.

Gently spread the twist at regular intervals and insert the tinted eggs; the number of twists will determine how many eggs are required.

Lightly grease the dough, cover with plastic wrap, and set aside in a warm place to rise until doubled in bulk—about 40 minutes.

Preheat the oven to 350oF.

Gently brush the dough with one beaten egg to create a shiny finish on the baked bread.

Bake for about 30 to 35 minutes, until the bread is golden.

Remove from the oven and carefully place on a rack to cool. Hold the bread evenly while transferring to the rack or it may split apart near one of the eggs. 
Recipe Notes
You can slice the bread on the table, but it may be easier to remove the cooked eggs and pre-slice it.
Reviews
Thursday, 24 March 2022
I love Easter bread. I always buy it from a Italian lady that owns a hotel/restaurant close by.It'...
See Full Review >>
- Liesabeth
Thursday, 24 March 2022
I love Easter bread. I always buy it from a Italian lady that owns a hotel/restaurant close by.It'...
See Full Review >>
- Liesabeth
Wednesday, 21 March 2018
recipes does not state how much butter to use
- melrugg