Farro With Grapes, Nuts, And Dried Fruit
Recently and readily available in the U.S., Farro is one of the oldest grains known to man. It's said that this is where all wheat grains were derived. Pretty awesome! I love all the savory recipes using Farro. For example; using chicken or vegetable broth and adding in mushrooms and asparagus. I even love to make my Farro, rissoto style with white wine and Parmesan cheese. This time I decided to take a traditionally savory ingredient and put a my own "sweet take" on it. Served at room temperature with all kinds of good things added, I'm making Farro a healthy and light dessert.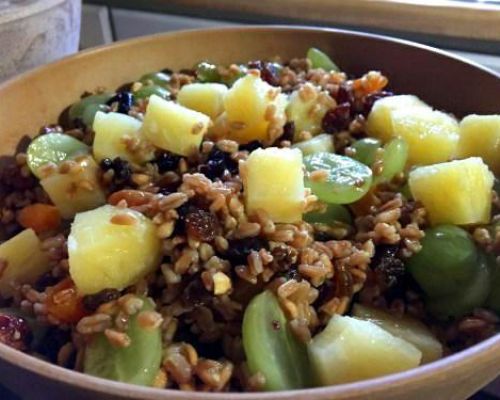 Ingredients
For 4 Person(s)
Recipe
cup of rinsed and drained Farro

4

cups of water

1/2

cup of dark amber Agave nectar (liquid measure)

1/4

teaspoon Kosher salt

1/2

cup of whole seedless green grapes, then halved

1/4

cup of chopped dried cherries

1/4

cup chopped dried apricots

1/4

cup of golden raisins

1/4

cup of chopped raspberry almonds ( nuts of your choice: hazelnuts)

1/4

cup of diced pineapple chunks

mybanner}
Try La Pasta della Nonna in
La Grande Famiglia Pasta Pack
with
FREE Shipping!
Get it HERE!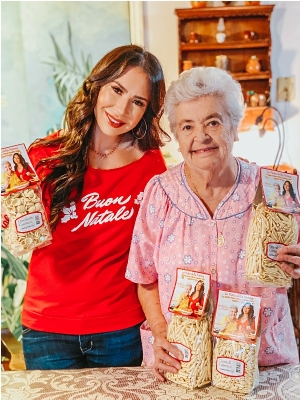 Directions
Place 1-1/2 cups of Farro in a mesh sieve.
Rinse and drain.
A sauce pot with 4 cups of water, agave nectar, and salt.
Turn heat on to medium high and add in Farro immediately.
Using a slotted spoon give the Farro a good stir to prevent sticking.
Bring the Farro up to a boil then cover.
Reduce heat to low and cook for 25-30 minutes.
Again, using a mesh sieve drain any remaining liquid.
Add Farro to a large mixing bowl and stir a couple of time to cool down.
Add in all the chopped fruits and nuts, then toss gently to combine.




The one tip I would have is to stir the Farro once it comes out of the pot to cool down the Farro a bit. Once you add in the cold grape halves and pineapple chunks the temperature will come down even more. Serve warm or at room temperature. This dessert makes a great snack in the middle of the day.


none