Fresh Plum Tomato Sauce
Fresh Plum Tomatoes, Basil, either from your back yard or store bought, and Pasta... makes a great meal.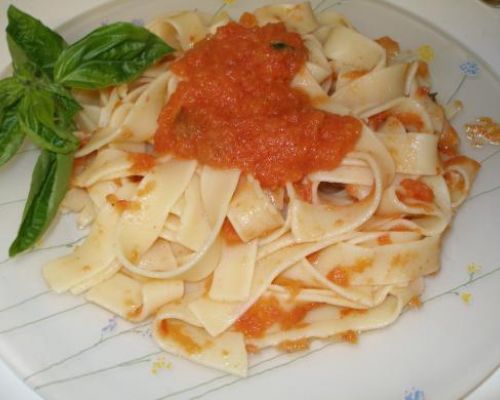 Ingredients
For 2 Person(s)
For the Sauce:
15

fresh plum tomatoes

1/4

cup

extra virgin olive oil

fresh basil (chopped)

1

pound

pappardelle pasta (or any pasta you like)

salt & pepper to your taste

grated Romano cheese
Directions
Wash and cut tomatoes in half the long way and remove the seeds.

Put them into a Large pot with water. Cook them until the skins start to come off and the tomatoes are soft and cooked.

In a bowl, put the 1/4 cup of the EVOO and then add the chop basil to it. Set aside.

Drain the water from the cooked tomatoes and keep the tomatoes.

Take a couple of tomatoes at a time and remove the skin and smash the tomatoes with a fork. Throw away the skins. Put the smashed tomatoes in the bowl with the EVOO and basil. Continue until all the tomatoes are finished **. Add salt and pepper to your taste and mix. Set aside.

Put another pot up with water and add the salt to your taste.

Once the water in the pot starts to boil...you can add the pasta. Cook to your taste.

Drain the pasta and put it back into the pot.

Add 3/4 of the cooked tomatoes (with the basil and EVOO in it) to the pasta and mix.

Put pasta in the plates. Before serving add a spoonful of sauce and basil on top.

Have some grated cheese on the table for the people that want it.
Recipe Notes
If you want the tomatoes a bit less chunky, use a stick hand mixer to cut up the cooked tomatoes a bit more. Enjoy !!