Great Nonna Janina's Biscotti
This recipe was given to me by my late Mother-in-Law who my grandchildren called Great Nonna. Interestingly, she was Polish and my late Father-in-Law was Italian, so she learned to cook and bake Italian specialties. She was an awesome baker and had home made baked goods in her home at all times. She passed away at the ripe old age of 92. This is a very easy, awesome recipe for biscotti. Whenever I take them anywhere, I always get compliments. They are crunchy but not hard and sweet enough to satisfy a person's craving for a little sweet and not be overpowering. My family absolutely loves them. I have to bake a double or triple batch when I make them so that I can give them to my children and grandchildren. Enjoy! Buon appetito!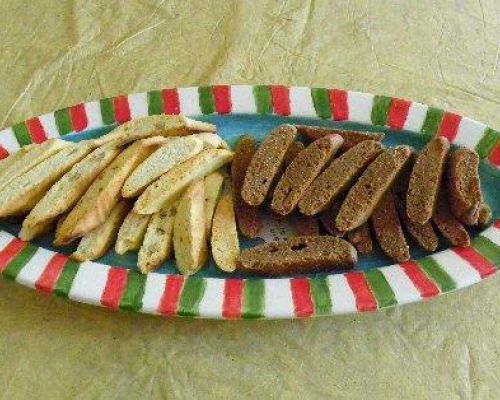 Ingredients
For 6 Dozen(s)
For the Biscotti:
1

cup

sugar

1

cup

olive oil

3

large eggs

3

cups

plus 3 tablespoons all purpose flour

1

teaspoon

baking powder

pinch of salt

few drops anise oil

1

cup

chopped walnuts
Directions
(1 cup sugar 1 cup oil ) Mix together until well blended.

Add 3 eggs and a few drops of Anise oil to sugar and oil, mix until well blended

Add 3 cups plus 3 TBS flour and 1 tsp of baking powder. Sift together, add to sugar, oil and egg mixture, mix until soft dough forms

Add a pinch of salt and 1 cup walnuts or almonds.

After mixing, chill dough overnight or at least 4 to 5 hours.

Dough will be on the soft side. Form into 3 logs, 3" wide x 10" long, placing on parchment covered cookie sheets.

Bake at 350 degrees for 20 minutes.

Let cool slightly, then slice diagonally into pieces 3/4" wide.

Lay biscotti on their side and bake for an additional 10 minutes on one side, turn over then bake the other side, toasting to a light golden brown.
Recipe Notes
After the dough is made, I have added cocoa or Nutella to make chocolate biscotti. The batch in the picture has two different flavors; one is lemon and the other chocolate. To those batches, I added Limoncello and lemon zest to the light colored biscotti and cocoa to the dark colored ones. I have added chopped up Snicker bars, chocolate chips, peanut butter chips to the dough. Sometimes I roll the log in cinnamon sugar and another time I added all spice, nutmeg, cloves and ginger to make a gingerbread biscotti. The platter my biscotti are pictured on is a platter that I designed and painted in a ceramic class. I drew the map of Calabria in the center (which is hidden by the biscotti) and painted the outside edge of the platter in the Italian flag colors. I am quite proud of my Italian Calabrese heritage and wanted to make this platter in honor of it; serving my Italian specialties to my family on it.
Reviews
Saturday, 07 November 2020
I love this recipe! I always made biscotti with butter, but this was quick & easy w/the olive oi...
See Full Review >>
- Gianna711