Lamb Shanks, Red Lentils and Broccolini
This meal will awaken your senses as Spring awakens the earth! SIGHT: By its bright beautiful colors! SMELL: By the aromas of the fresh herbs, caramelized vegetables and the roasting lamb! TOUCH: The textures of the meal melting over your tongue! TASTE: Sweet, buttery, earthy, savory and the freshness of this combination! HEARING: Mmmmmmms and ahhhhhs as your family indulge in this delicious meal!!!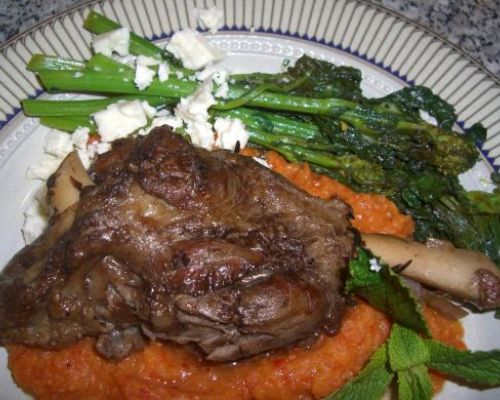 Ingredients
For 4 Person(s)
Recipe
Shanks:

4

Tablespoons Olive oil

4

Lamb shanks

1

teaspoon dried oregano

1

onion peeled and quartered

4

large cloves garlic peeled and smashed

2

cups Red Wine of your choice

1

(4 cup) carton of beef broth

1

large sprig of fresh Rosemary

2

cups Red Lentils (They look like little gems don't they?!!)

2

Tablespoons olive oil

1

pint cherry tomatoes quartered

1

medium onion peeled and sliced

1

large red pepper roasted (skin, stem and seeds removed) or you may use 1 cup of jarred roasted red pepper

1

clove garlic peeled and grated

salt to taste

2

bunches of broccolini rinsed and ends cut off

oil

2

cloves garlic sliced

1

lemon zested and juiced

2

sprigs Fresh Mint sliced into thin ribbons

Salata or Feta crumbled

mybanner}
Directions
Lamb Shanks:
Preheat oven to 350 degrees
On stove top Heat olive oil in 5 quart oval dutch oven using med heat
Dry lamb shanks well with paper towel
Season shanks with oregano, salt and pepper
Place shanks in dutch oven and brown on all sides
Remove shanks from pan and put on plate
Add onions and cook til translucent
add garlic and cook til fragrant (3 to 4 minutes)
Deglaze pan with red wine
add lamb shanks and any accumulated juices back into pan
add enough beef broth to almost cover lamb shanks
add Rosemary sprig
Put lidded Dutch oven into a 350 degree oven and braise for 2 hours turning shanks every 30 minutes.
Red Lentils:
In a large saute pan, heat olive oil over medium low heat
When oil shimmers, add onions, tomatoes and roasted pepper
after 4 minutes add grated garlic
caramelize vegetables.
Remove from heat and put into the bowl of a food processor.
Boil lentils in water til tender.
Drain lentils and add to food processor bowl
Lightly puree lentils and caramelized veggies
Add sea salt to taste
Broccolini:
Boil broccolini til tender and drain well
Heat olive oil and garlic in large pan til fragrant
Remove garlic (you are flavoring oil)
lower heat and add broccolini
saute til glossy about 5 minutes
add lemon zest and mint
add lemon juice
Remove from pan and put on large serving platter
Sprinkle Ricotta Salata or Feta over broccolini




none
Please Follow me on Instagram!