Lemon Pistachio Pesto Pasta Salad
Lemon Pistachio Pesto Pasta Salad.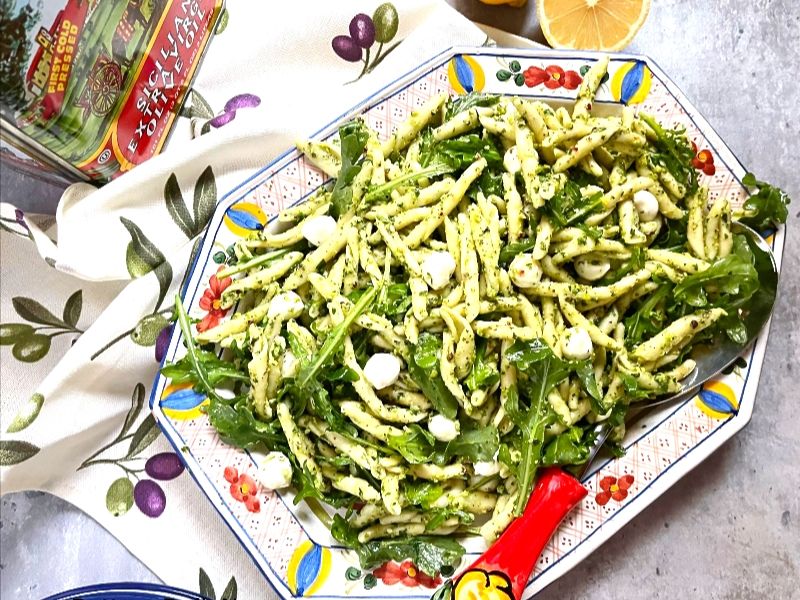 Ingredients
For 4 Person(s)
For the Pesto:
2 1/2

cups

tightly packed basil leaves washed and dried off

1/2

cup

unsalted pistachios shells removed

Zest of 1 lemon

Juice of 1 lemon

3/4

cup

extra virgin olive oil

1/2

teaspoon

salt

1/2

cup

grated Parmigiano Reggiano cheese

1/4

cup

grated Pecorino Romano cheese
For the pasta salad:
1

pound

Fusilli Pasta, or any short pasta you prefer

6

tightly packed cups arugula washed and dried

1

cup

pearl mozzarella balls can sub cubed fresh mozzarella

Lemon zest for topping

Extra virgin olive oil for topping
Directions
To make the pesto:

Put the basil, pistachios, extra virgin olive oil, lemon juice, lemon zest, cheeses and salt into a food processor bowl, and process to a uniform, smooth consistency.
Set aside for the pasta salad or store in an air tight container with a thin layer of oil over the top.

To make the pasta salad:

Drop the pasta into generously salted boiling water and cook until Al dente.
Run the pasta under cold, running water and transfer to a large bowl.
Add the pesto and toss until the pasta is coated. Add the arugula and pearl mozzarella and toss until fully combined.
Serve on a platter and top with extra lemon zest and another drizzle of extra virgin olive oil.