Lemon Twist Cookies
Lemon Twist Cookies... great for dipping in coffee!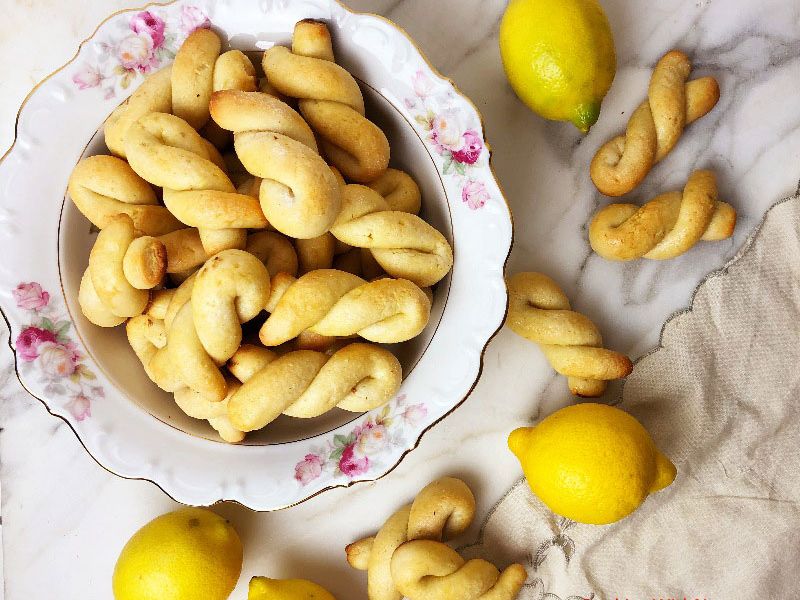 Ingredients
For 3 Dozen(s)
For the Cookies:
3 1/2

cups

00 or all purpose flour

1 1/2

teaspoon

baking powder

2

large eggs, plus one for egg wash

3/4

cups

granulated sugar, plus more for sprinkling on top

6

tablespoons

olive oil

3

lemons, zest and juice
Directions
In a mixing bowl whisk together the flour and baking powder. Set aside.

In another mixing bowl combine the eggs, sugar, oil, zest and juice. Beat with an electric mixer on medium-high speed until frothy. Lower the speed to low and add in the flour a little at a time until a dough forms.

Cover and refrigerate for 1 hour.

Preheat the oven to 375 degrees.

Line 2 13x18 inch Baking Sheets with aluminum foil or parchment paper and spray them with baking spray.
*as an alternative to baking spray you can dip the bottom of each cookie into flour before placing it on the baking sheet so they do not stick.

On a lightly floured work surface take a chunk of dough and roll it into a rope about 1 inch thick and about 8 inches long.

Fold the rope in half and twist twice. Lay each cookie about 1 inch apart on the prepared baking sheet.

In a bowl, beat the remaining egg with a fork and brush each cookie with the egg wash. Sprinkle each cookie with sugar and bake for 15-18 minutes or until the bottoms are nicely browned.
Reviews
Sunday, 07 April 2019
DO NOT USE OLIVE OIL! I made these using vegetable oil and they turned out really good. Olive oil...
See Full Review >>
- italialady
Monday, 07 January 2019
Well they are easy but the olive oils gives it a taste where it seems raw even though I cooked them ...
See Full Review >>
- falcohouse1