Nutella Stuffed Castagnole
Celebrate Carnevale - Mardi Gras with Nutella Filled Castagnole! One of the many ways to make Zeppole!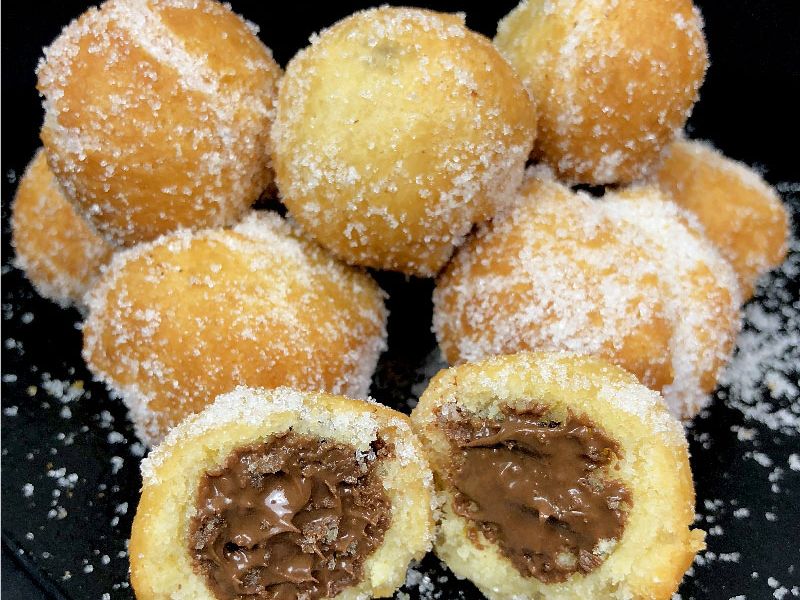 Ingredients
For 2 Dozen(s)
For the Castagnole:
7

ounces

all purpose flour

1 3/4

ounces

sugar, plus extra for rolling the Castagnole

1

teaspoon

vanilla extract

2

large eggs

1

lemon, zest only

1 1/2

ounces

butter, room temperature

1

pinch salt

2

teaspoons

baking powder

Nutella
Directions
Get your Italian Nutella

HERE!

Get your Nutella imported from Italy

HERE

In a large bowl, sift the flour, add the sugar, the vanilla extract, the eggs, the lemon zest, the softened butter (just leave it somewhere warm for a bit), a pinch of salt and the baking powder.

Mix everything first with a fork and then with the hands, until you have a soft and smooth dough.

Knead the dough on a table with some more flour on it.

Let the rest in the bowl for about 30 minutes, covered with cling film.

Cut a piece of dough and roll it to form a thick rope.

Cut the rope in pieces the size of large chestnut, flatten it and add one tespooon of Nutella inside. Seal the Nutella with the dough and roll it between your hands to form balls, making sure that the Nutella doesn't come out. Do the same with the rest of the dough until you have no more dough.

Fry the castagnole in sunflower oil. The oil should be hot, but not too hot otherwise the castagnole will remain raw inside. The ideal oil temperature for the castagnole is 340°F.

Dry the fried castagnole from the oil with some paper towels and then roll them in the sugar. They are now ready to be eaten!
Reviews
Sunday, 25 February 2018
Could the Castagnole be stuffed with something other than Nutella? Custard, maybe?
- dazguti