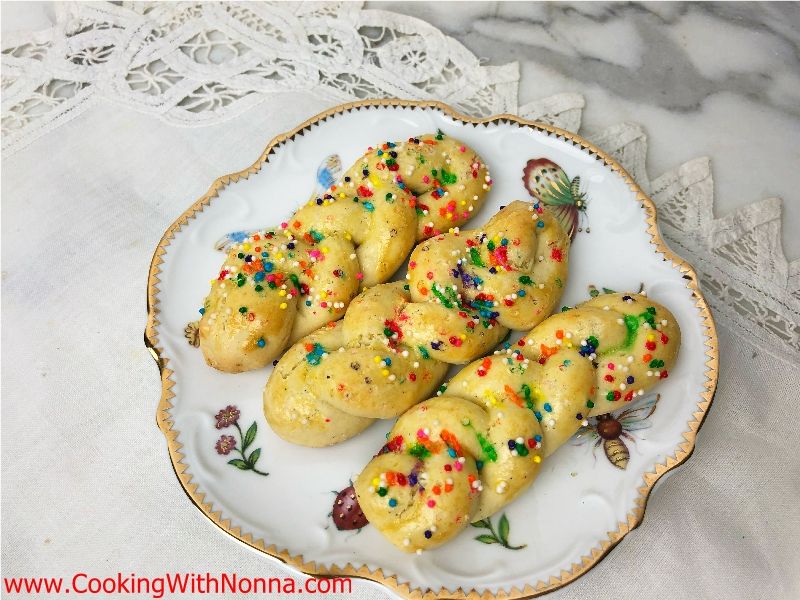 Ingredients
For 2 Dozen(s)
For the Cookies:
4 1/2

cups

00 or all purpose flour

1

tablespoon

baking powder

1

cup

granulated sugar

5

large eggs, divided (4 for the dough, 1 for the egg wash)

3/4

cup

olive oil

2

packets Vanillina or 2 teaspoons vanilla extract, divided - Vanillina available in La Bottega - See link Below!

Or 2 teaspoons almond, anise, orange our lemon extract

Rainbow Nonpareils for decorating
Directions
Preheat the oven to 375ºF (190ºC).

Line a Baking Sheet with Parchment paper.

In a mixing bowl, whisk together the flour and baking powder. Set aside.

In another mixing bowl beat the 4 eggs and the sugar on medium speed until lemon colored and foamy, about 5 minutes. Add the olive oil and vanilla and mix until fully incorporated. Add the flour mixture and mix until fully absorbed. The dough will be rather soft.

On a floured counter, take walnut-sized piece of dough and roll it into 1/2-inch thick and 5 inches long strand. Your hands should be dusted with flour to prevent sticking. Do the same with 2 more strands. Pinch the top of all three ends together, then make them into a braid. Pinch the ends together. You may need to add a drop of water if the dough will not stick together. Repeat the procedure with the remaining dough.

Place the cookies 2 inches apart on your baking sheet. Whisk the remaining egg with a fork into a bowl. Brush each cookie with the egg wash and sprinkle with nonpareils.

Bake for 15-18 minutes or until the bottoms of the cookies are golden brown.
Reviews
Thursday, 20 August 2020
I made two batches for these cookies and had to throw both out. Can anyone help me? The only thing...
See Full Review >>
- Bocamama
Tuesday, 18 August 2020
ingredient list says 5 eggs (4 for dough, 1 for egg wash), recipe direction #5 says 2 eggs) somethin...
See Full Review >>
- GmaMo