Orecchiette with Porcini and Speck
Orecchiette with Porcini and Speck.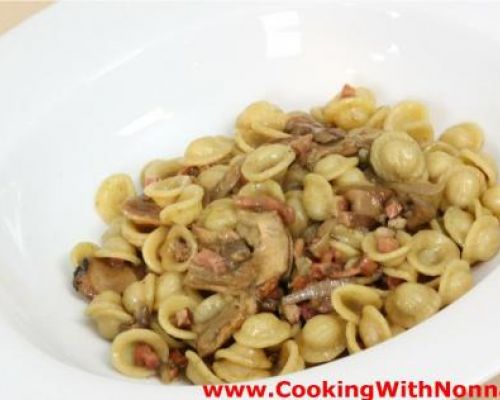 Ingredients
For 4 Person(s)
For the Orecchiette:
1

pound

orecchiette pasta

1

ounce

dried Porcini mushrooms soaked and chopped

4

ounces

Speck cubed

4

cloves garlic chopped

1/2

cup

white Wine

1/2

cup

pasta cooking water

1/2

cup

grated Pecorino Romano Cheese

4

tablespoons

extra virgin olive oil (Enough oil to cover the bottom of the pan)
Directions
Place the mushrooms in a coffee mug. Cover the mushrooms with enough warm water that they are totally submerged. I like to use an espresso plate and cover them. Soak the mushrooms for 20 mins.

Pour the soaking liquid through a coffee filter and set liquid aside. Chop mushrooms.

Cook the pasta in salted boiling water until al dente.
In a large sauté pan heat the oil on medium heat and sauté the garlic and the speck. cook 2-3 minutes.

Add the prob in and the soaking liquid and cook 5 minutes.

Add the pasta water and cook 2-3 minutes stirring with a wooden spoon. Sauce should thicken slightly.

Add the al dente pasta and toss for 1-2 minutes.
Add the cheese and serve immediately.