Pasta alla Norma - Pasta with Eggplants
Pasta alla Norma... another Sicilian signature dish. Pasta, eggplants and cheese! This dish was created in 1831 by a chef in Catania, Sicily, in honor of the composer Vincenzo Bellini whose premier of his opera "La Norma" at La Scala in Milan was a complete fiasco. So, to make Bellini feel better after his return home in Sicily, the chef created this dish and this gave Bellini the will to continue to compose and become of of the greatest Italian composers.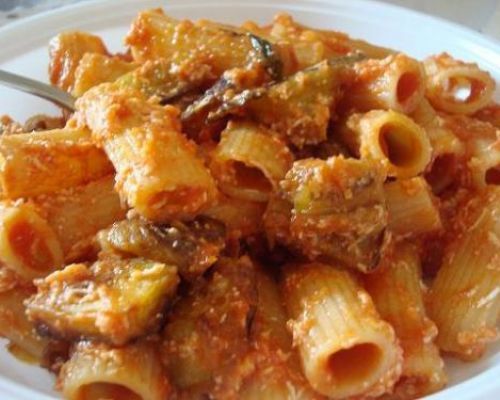 Ingredients
For 4 Person(s)
For the Pasta:
1

pound

Rigatoni

2

cups

crushed peeled tomatoes

1

Large eggplant

2

Cloves garlic

2

Leaves basil

4

tablespoons

Ricotta salata (Salted seasoned ricotta)

3

tablespoons

extra virgin olive oil

Frying oil

salt & pepper
Directions
Cut the eggplant into round slices 1/2 thick. Do not remove the peel.

Deep fry the eggplants slices in oil. Once finished remove excess oil with paper towel.

In a saucepan add EV olive oil and chopped garlic.

Once the garlic turns blonde add the crushed tomatoes and the basil. Salt and pepper to taste.

Cut the fried eggplants into strips about 1 inch wide and add to the sauce.

Cook for an additional 10 mins.

Cook the rigatoni and put in a large bowl. Add the sauce and mix well.

Serve and garnish with Ricotta Salata.
Reviews
Thursday, 14 December 2017
We aren\'t Sicilian but my mom favorite rigatoni and eggplant . Thnx for recipe
- Saint of circumstance
Thursday, 14 December 2017
quick, easy, & delicious---we loved it!!!
- jckc
Thursday, 08 September 2016
these receipes confuse me...Tomato PASTE in my family is a VERY thick, pasty, concentrated tomato p...
See Full Review >>
- nanapati