Risotto with Artichokes and Mushrooms - Risotto con Carciofi e Funghi
Risotto with Artichokes and Mushrooms... healthy and delicious.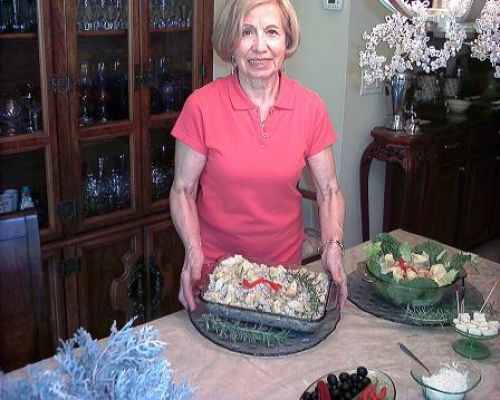 Ingredients
For 4 Person(s)
For the Risotto:
6

medium fresh artichokes cut in slices

4

tablespoons

butter

4

tablespoons

extra virgin olive oil

2

cloves garlic finely chopped

1

large sweet onion finely chopped

1

teaspoon

lemon zest

1

cup

dry white wine

1/2

pound

mushrooms, washed trimmed and thinly sliced

2 1/2

cups

Arborio rice

7

cups

hot chicken broth

1

cup

grated Parmigiano cheese, 1/2 for the rice, 1/2 for serving

curls of Parmigiano to garnish

3

bay leaves

sprigs of parsley or basil to garnish

salt & pepper
Directions
In a large pan heat the olive oil and the onions and garlic. Saute` until onion is transparent.

Add the artichokes and the bay leaves. Saute` for a few minutes to coat.

Pour in the wine, cover and simmer for 5 mins.

Remove the cover and add the sliced mushrooms and stir for 2 mins.

Add the Arborio rice and saute` for 3 mins.

Incorporate the lemon zest and begin to add the broth, 1/2 cup at the time as the liquid is absorbed by the rice.

Continue cooking at medium heat until the rice appears creamy, smooth, moist and al dente.

Remove from the heat. The rice will continue to soften. Add butter and Parmigiano cheese.

Serve immediately. Garnish with basil or parsley and curls of Parmigiano.

Pass around the grated Parmigiano and fresh pepper.