Whipped Mascarpone Clouds
This cake is special to me because it's my son's first dessert he made for me. It was a family favorite & now I make it all the time. It is light, delicious, and simple to make! sure to be a hit at any gathering!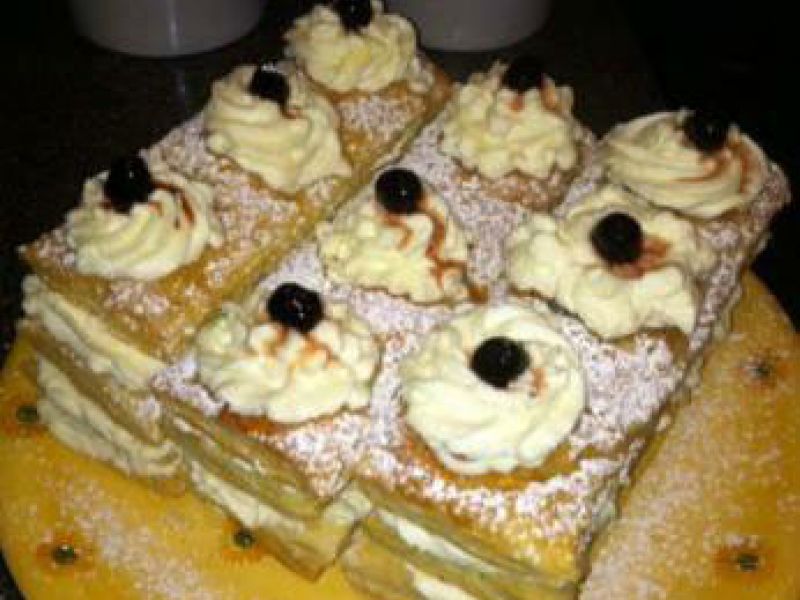 Ingredients
For 9 Person(s)
For the Puff Pastry:
1

package of puffed pastry sheets
For the Cream:
8

ounces

mascarpone cream, room temperature

1

quart

heavy whipping cream

1 1/2

teaspoons

almond extract

8

tablespoons

powdered sugar

9

maraschino cherries
Directions
For the Pastry:

Bake the pastry sheets according to the package directions

Don't forget to poke holes in the pastry sheets (there should be three)

let cool

FOR CREAM:

Whip the heavy whipping cream in a chilled bowl with powdered sugar & almond extract

whip until peaks form

Fold in the mascarpone cream

Cut cooled pastry sheets into 9 squares.

Spread the cream between separated puff pastry sheets

Layer another sheet, top with more whipped cream

Top each square with a dollop of the whipped cream, a maraschino cherry, and powdered sugar.
Categories:
Dessert & Cookie Recipes
,
All Recipes
,
Christmas Recipes
,
Thanksgiving Recipes
,
Easter Recipes
,
Valentine's Day Recipes
,
Mother's Day Recipes
,
Father's Day Recipes
,
Memorial Day Recipes
,
4th July Recipes
,
Labor Day Recipes
,
Easter Cakes and Cookies
,
Valentine's Cake and Cookie Recipes
,
Pastry and Tart Recipes
,
Summer Dessert Recipes
,
Thanksgiving Dessert Recipes
,
Christmas Dessert Recipes
Reviews
Thursday, 14 December 2017
Will try to make
- dee3