Sgombri con Patate al Forno - Baked Mackerels and Potatoes
Baked mackerel and potatoes. An old traditional dish made by Nonne in the Bari area. Tasty and very healthy as mackerel is rich in Omega-3 and is an excellent fighter of cholesterol.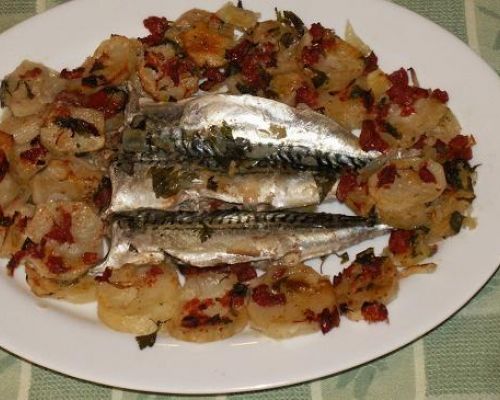 Ingredients
For 4 Person(s)
For the Sgombri:
8

medium sized Mackerels

2

pounds

potatoes

2

sliced onions

1

pound

chopped tomatoes

grated Parmigiano cheese

extra virgin olive oil

salt & pepper

fresh parsley
Directions
Cover the bottom of an oven pan with a thin layer of olive oil and and a layes of sliced potatoes.

Over the bed of potatoes, lay the mackerels which have been cleaned (beheaded and gutted).

Over the mackerels add another layer of sliced potatoes, onions, tomatoes, parsley and a sprinkle of Parmigiano. Salt and pepper to taste. Sprinkle olive oil over the last layer and add two cups of water.

Cover the pan with aluminum foil and bake for 45 minutes at 400F. Remove the foil and bake for an additional 30 minutes.
Categories:
Nonna Romana Sciddurlo
,
Entree Recipes
,
Fish Recipes
,
Puglia Recipes
,
Easy Recipes
,
All Recipes
,
Christmas Recipes
,
Mackerel Recipes
,
Mother's Day Recipes
,
Father's Day Recipes
,
4th July Recipes
,
Labor Day Recipes
,
Potato Recipes
,
Christmas Fish Recipes
,
Gluten Free Entree Recipes
,
Mediterranean Diet Entree Recipes
,
Cucina Povera della Nonna
Reviews
Thursday, 14 December 2017
In some baked fish dishes it it perfectly fine to add some cheese! :)
- rossella rago