Sicilian Lemon Ricotta Cheesecake
My husband's family is from Sicilia, the land of lovely lemons, so I came up with this amazingly light and moist lemon ricotta cheesecake topped with home made lemon curd! A lemon-lovers delight!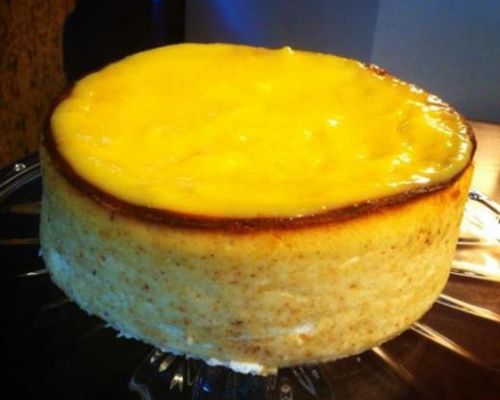 Ingredients
For 8 Person(s)
For the Cake:
30

ounces

whole-milk ricotta

1

tablespoon

unsalted butter, room temperature

1

cup

plus 1 tablespoon sugar (for less sugar you can use "C&H Sugar & Stevia" blend)

3

tablespoons

Tbsp. unseasoned dry breadcrumbs

16

ounces

cream cheese, room temperature, cut into cubes

2

large eggs, room temperature

3

tablespoons

salt-free matzo meal

1

tablespoon

fresh lemon juice

2

tablespoons

fresh lemon zest

3

teaspoons

lemon juice powder (optional) – available at gourmet stores or online

2

teaspoons

vanilla extract

1/8

teaspoon

kosher salt
For the Lemon Curd:
2

lemons

4

egg yolks, room temoerature

3/4

cup

sugar

4

tablespoons

butter,cold
Equipment Needed:
spring form pan with 2 1/2 inches - high sides

dental floss (to cut the cake)
Directions
Put ricotta in a large fine-mesh strainer set over a bowl. Drain for 30 minutes.

Arrange rack in lower third of oven and preheat to 350°. Grease an 8" spring form pan with 2 1/2"-high sides with butter.

Mix 1 Tbsp. sugar and breadcrumbs in a small bowl; sprinkle into buttered pan to coat sides and bottom. Tap out excess crumbs.

Transfer ricotta to a processor. Purée for 15 seconds. Scrape down sides of processor; purée until smooth.

Add cream cheese; purée until smooth. Add the remaining sugar and all other ingredients; purée, scraping down sides occasionally, until smooth, about 30 seconds.

Scrape batter into prepared pan.

Bake cheesecake until golden brown and just set, about 1 hour 15 minutes. The middle of the cake may still be a little "wobbly", but not very much. If the whole cake is still wobbly, bake for another 5-10 minutes. ***The "toothpick test" does not work with this cake…***

Transfer to a rack and let cool in pan (cake will fall slightly).

Refrigerate uncovered until cool, about 3 hours. Then cover and chill overnight.

Prepare Lemon Curd topping:

Zest the lemons. Juice the lemons. In a bowl mix together the egg yolks and sugar until smooth.Stir in lemon juice and zest. In a saucepan, over medium heat, bring to a simmer. Continue cooking, stirring constantly until the mixture coats the back of a spoon. Stir in the butter 1 Tbsp. at a time. Cover lemon curd with plastic wrap and refrigerate overnight.

The next day, wrap a warm towel around spring form pan to release the cake. Gently remove pan sides.

Top with lemon curd to taste. You don't have to use all of the lemon curd for the topping - I usually have some lemon curd leftover and serve a dollop with each slice of cake).

Refrigerate until ready to serve (see floss tip below)
Recipe Notes
This cake needs to be refrigerated overnight, plan to make the cake the day before you want to serve it. 2. Right before serving, pre-slice the cake into 8 pieces by using a long string of unflavored dental floss – cutting this ultra-moist cake with a knife is very messy! Serve and enjoy!
Categories:
Dessert & Cookie Recipes
,
Sicilian Recipes
,
All Recipes
,
Christmas Recipes
,
Thanksgiving Recipes
,
Easter Recipes
,
Valentine's Day Recipes
,
Mother's Day Recipes
,
Father's Day Recipes
,
Easter Cakes and Cookies
,
Valentine's Cake and Cookie Recipes
,
Cakes and Pies Recipes
,
Thanksgiving Dessert Recipes
,
Cheesecake Recipes
,
Lemon Recipes
,
Christmas Dessert Recipes
Reviews
Sunday, 12 May 2019
Found this recipe through the Nonna site on Facebook. Made it for a dinner party last evening. Alt...
See Full Review >>
- joscaf
Thursday, 14 December 2017
Amazing, light, delicious!
- Eurogirl63