Spaghetti with Breadcrumbs
Another Sicilian St. Joseph recipe... Spaghetti con Mudica (Spaghetti with Breadcrumbs). The Breadcrumbs represent saw dust as a reminder that St. Joseph was a poor peasant and carpenter.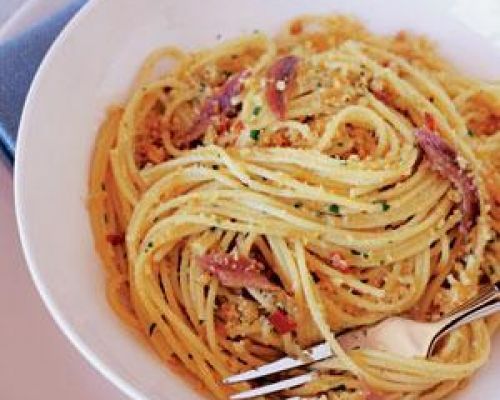 Directions
Remove anchovy fillets from container leaving oil behind (no need to rinse oil-packed fillets).

Finely chop 6 fillets; set aside. Cut remaining 6 fillets into 4 or 5 pieces each; set aside.

Meanwhile cook your spaghetti.

Put olive oil, garlic, finely chopped anchovies in a deep in a skillet or wide pot and cook over low heat, stirring, until anchovies dissolve.

Stir in parsley and remaining anchovies; turn off heat.

When pasta is almost done, set aside 1 cup of the cooking water, then drain pasta and transfer to pan of anchovy sauce.

Toss quickly until all the strands are well coated. Add some reserved cooking water if pasta seems dry.

Set aside 2 tbsp. bread crumbs, then add remainder to pasta and toss again.

Divide pasta among 8 warm bowls and sprinkle each serving with some reserved bread crumbs. Serve immediately.
Recipe Notes
My Nonna sometimes added a spoonful of tomato sauce to the anchovy paste. I like this recipe both ways. Salt to taste, but the anchovies should provide enough.