Spaghetti with Mussels and Toasted Breadcrumbs
Spaghetti with Mussels and Toasted Breadcrumbs, a super quick and delicious dish to make all year long.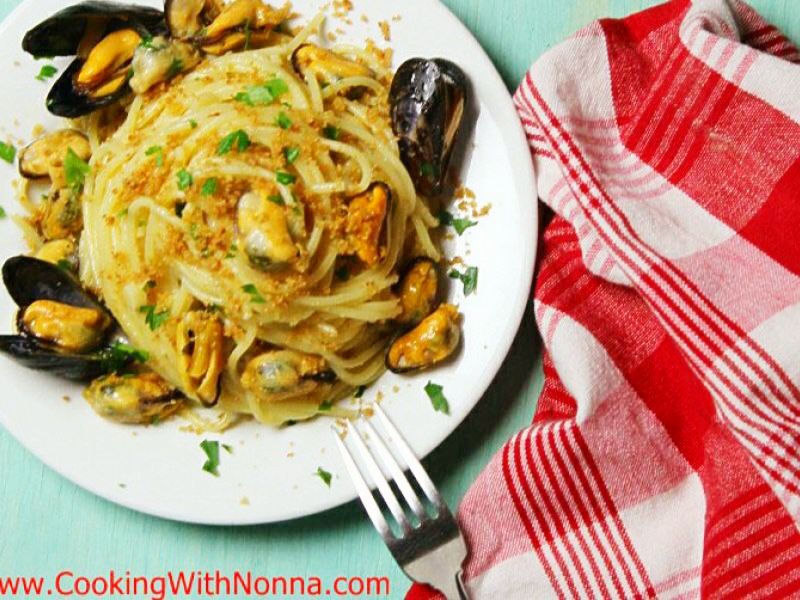 Ingredients
For 4 Person(s)
For the Pasta:
1/2

cup

plain breadcrumbs

6

tablespoons

extra virgin olive oil, divided

2

pounds

mussels, scraped and beards removed

4

cloves

garlic, sliced

red pepper flakes, as desired

2

tablespoons

fresh parsley

1

pound

dry spaghetti pasta
Directions
Toast the bread crumbs by putting 2 tablespoons of extra virgin olive oil in a saute` pan and adding the bread crumbs.

Continuously stir the bread crumbs with a wooden spoon until bread crumbs turn golden-light brown. Put aside for later.

Put a 12 inch sauté pan with a lid over a medium flame and add the mussels.

Cover the pan and let the mussels open, about 7-10 minutes. Stir occasionally.

Once all the mussels have opened remove the pan from heat and shell all the mussels, making sure to reserve their juice. Set aside.

Filter the water at the bottom of the pan and set aside.

In a large saute pan, add 4 tablespoons of extra virgin olive oil and the sliced garlic. Add red pepper flakes as desired. Set the flame to medium.

Once the garlic tuns light golden, add the juice from the mussels. Once it comes to a boil, let it cook for 2-3 minutes.

Add the mussels and the parsley and let everything cook for about 5 minutes.

Cook the spaghetti in salted water and once they are to an Al Dente consistency, add them to the pan.

Toss for 1 minutes and serve each plate garnished with the toasted breadcrumbs.