Spaghetti with Roasted Eggplant Pesto
Spaghetti with Roasted Eggplant Pesto.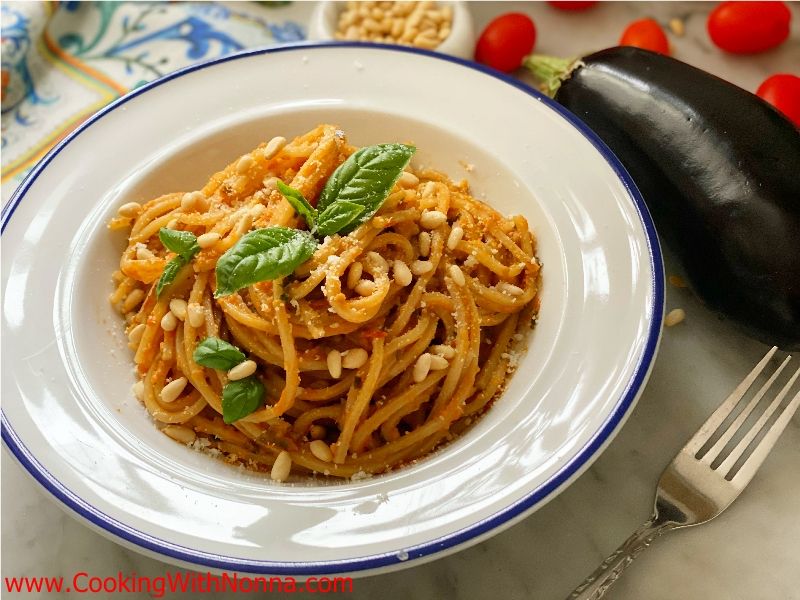 Ingredients
For 4 Person(s)
For the Pasta:
2

medium eggplant, or 3 Sicilian small eggplant, skin on and cut into strips 2 inches long and half an inch wide.

1/2

cup

extra virgin olive oil, plus more for drizzling

2

teaspoons

salt

15

ounces

cherry tomatoes, halved

1/2

cup

grated parmigiano reggiano cheese

1/2

cup

pinoli nuts, divided

5

fresh basil leaves

1

pound

dried spaghetti
Directions
Preheat your oven to 400 degrees. Line a baking sheet with parchment paper.

Spread the eggplant onto the baking sheet and toss in the oil and salt, making sure all the eggplant is well coated. Drizzle a bit more oil over the top of the eggplant and roast for 15 minutes.

Add the tomatoes to the pan and roast for an additional 15 minutes or until the tomatoes are blistered and the eggplant is cooked through and soft.

Remove from the oven and cool for 15 minutes.

Transfer the eggplant and tomatoes to the bowl of a food processor along with the cheese, 1/4 cup of the pinoli and the basil. Process until smooth. Remove to a large skillet and mix in the remaining pinoli nuts.

Drop the Spaghetti into generously salted boiling water.

While the pasta is cooking, heat the sauce over medium-high heat and add about 1/2 cup of pasta water to it to loosen.

Cool the pasta till al dente and drain. Toss in the sauce for 1-2 minutes. If the pan seems a bit dry add another 1/4 cup of pasta water.