Spaghetti with Tuna and Capers
Spaghetti with Tuna and Capers.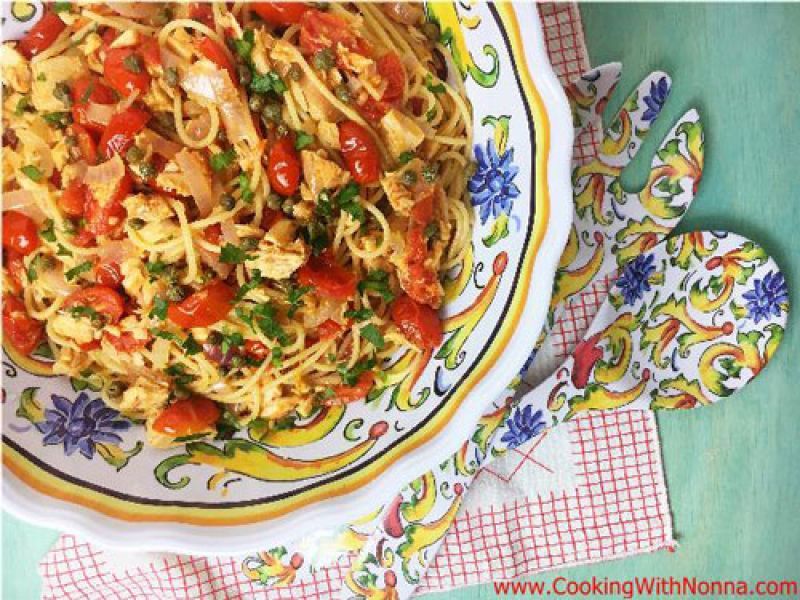 Ingredients
For 4 Person(s)
For the Pasta:
1

pound

dried spaghetti

3

tablespoons

extra virgin olive oil

1/4

teaspoon

red pepper flakes (optional)

1

small red onion, cut into a 1/2 inch dice

1

pint

cherry tomatoes, cut in half

1/2

teaspoon

salt

10

ounces

Italian tuna packed in olive oil drained

3

tablespoons

capers

2

tablespoons

chopped fresh parsley
Directions
Get your Italian Tuna

HERE!

Bring a large pot of generously salted water to a boil and drop in the spaghetti.

Put a large sauté pan over a medium flame and heat the oil. Add the onion and red pepper to the pan and sauté for 2 minutes.

Add in the tomatoes and the salt and cook until the tomatoes just begin to break down. About 3-5 minutes.

Add the tuna and capers to the pan and cook for 2-3 minutes. By now the pasta should be just at al dente.

Add the spaghetti and parsley to the pan and toss for 1-2 minutes. Taste for seasoning and add more salt and black pepper as desired.